The forgotten Japanese Garden hidden in the hills of a popular Lancashire walking spot
If you fancy a stroll this weekend…
There's a beautiful and tranquil Japanese Lake hidden in one of Lancashire's top walking spots.
If you've ever ventured up Rivington Pike you'll know just how busy that place gets, especially if the sun makes an appearance!
Tucked away around halfway up the path to the peak is one of Britain's best lost gardens (according to Countryfile in 2014).
The Japanese Lake is part of the Rivington Terraced Gardens built by the founder of the former Lever Brothers company – now known as Unilever – Lord Leverhulme, inspired by one of his trips to Japan.
Constructed between 1905 and 1925, The Terraced Gardens were originally filled with Japanese tea houses, lanterns, and exotic plants, and had two gorgeous waterfalls.
In the unexpected tranquil oasis, only the lake and stone bases of the tea houses remain, but it is still a gorgeous stop on a walk!
The Gardens are part of 45 acres of hillside between Rivington Pike and Rivington Hall Barn, which has a number of interesting features.
You'll find the Pigeon Tower – once home to Lady Leverhulme's sewing and music room on the top floor. The second and third floor housed dovecotes.
You'll also find Lever Bridge at the northern end of Rivington Terraced Gardens, crossing Roynton Lane – the main pathway through the gardens. 
The bridge is based on one Lever saw on a trip to Nigeria. It's known as the Seven Arch Bridge with one large arch crossed by six smaller ones. 
The Rivington Terraced Gardens remained open during the pandemic, with staff asking the public to take their litter home, including dog waste bags, or to use the bins provided in all the car parks. 
There are three main entrances to the gardens; Belmont Road, another at the former Bolton Lodge and the third at the north-west corner of the gardens with a path leading across the meadow from Rivington Hall.
The main way to the gardens is via Roynton Lane, which runs through the middle of the site.
The garden is split into two distinct areas, the eastern area is more formal with lawns and lakes and contains vegetation from ornamental planting, including species such as Berbeis.
The other side is slightly more steep with trees such as Chestnut and Beech. Between the two areas is a terrace bath with irregularly-shaped flags.
The cosiest pubs in Manchester to enjoy an autumn pint
It's officially cosy pub season and we couldn't be happier about it
Summer has officially departed and, while we may be sad to wave goodbye to our beloved beer gardens for another six months, we're undeniably very excited to welcome back those log fires and warming Sunday roasts.
Yep, autumn is here and that means Manchester's cosiest pubs are back open for business, offering all those lovely autumnal treats such as mulled wine, warming fire places and those iconic cosy corners.
And luckily for you lot, the city is teeming with wonderful pub offerings to keep you occupied throughout the colder months.
So without any further ado, here's some of our favourite spots…
The Blackfriar
This historic boozer reopened last year after eighteen long years out of action following a massive investment by property giants Salboy, who transformed the building back into the cosy pub it once was, with a fine dining section and green oasis through the back.
But round the front, guests can settle down in front of a roaring fireplace and indulge in all those comforting pub grub classics like fish and chips and pie and mash alongside a lovely pint of Guinness. It doesn't get much more autumnal than that, does it?
The Blackfriar, 41-43 Blackfriars Rd, Salford M3 7DB.
https://www.theblackfriarsalford.co.uk/ 
The Didsbury
Famous for its enormous front-facing beer garden in the summer (and for being the first stop in the famed Didsbury Dozen pub crawl, of course), The Didsbury is also well loved for its snug interior throughout the autumn and winter months.
Here, you'll be able to sit back and relax with a beverage directly next to a crackling fireplace built within a lovely exposed brick wall – dogs are welcome too, incase you needed any more convincing. 
The Didsbury, 852 Wilmslow Rd, Didsbury, Manchester M20 2SG
The Didsbury Website
The Oxnoble
Located at the heart of the old Potato Wharf in Castlefield, The Oxnoble is one of the city's most historic pubs, having being built all the way back in 1804. 
And you know what they say about old and historic pubs; they make for the best winter boozers. The pub's low ceilings and creaky floorboards give it a very comforting nostalgic feel, with its old-timely fireplace pairing perfectly with the many beers and bitters on offer behind the bar.
71 Liverpool Rd, Manchester M3 4NQ
The Oxnoble Website
The Circus Tavern
The 'smallest bar in Europe' was always going to make the cosy pubs list, wasn't it? Admittedly, many may consider The Circus Tavern to be more on the claustrophobic side than the cosy side but still, it's an undeniable gem for those colder months.
While there isn't a roaring fireplace to snuggle down next to (that'd be a major health hazard in such a small place, don't you think?), there is plenty of old-worldly pub vibes knocking about. Plus, famed footballer George Best did frequent the pub back in the day, if that helps.
The Circus Tavern, 86 Portland St, Manchester M1 4GX
http://circustavern.co.uk/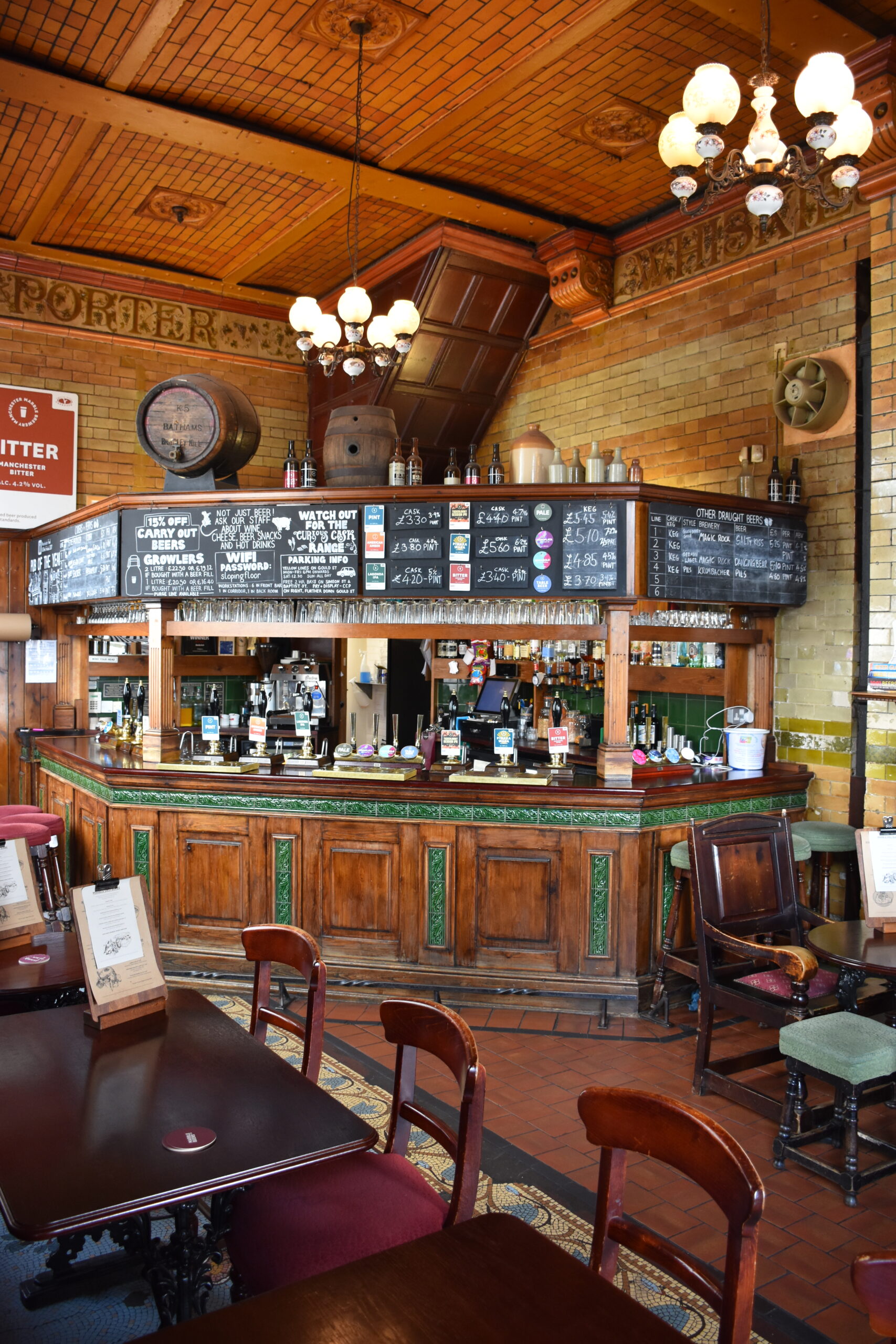 The Marble Arch
A short walk away from the Northern Quarter down Rochdale Road, The Marble Arch is undisputedly one of Manchester's most historic and iconic boozers, having stood the test of time since 1888.
Providing those 'proper pub' vibes among a sea of trendy craft beer bars, The Marble Arch brews its own beer and is a definite must-visit when looking for some solace from Manchester's icy wind and rain. 
The Marble Arch, 73 Rochdale Road, Manchester, M4 4HY
The Marble Arch Website
Sam's Chop House
A pub once frequented by artist LS Lowry (there's a massive statue of him propped up at the bar if you don't believe me), Sam's Chop House is as cosy and old-worldly as a pub can get.
Guests have to take a rickety and narrow winding staircase down to find the pub and fully functioning gourmet restaurant nestled underground, alongside an extensive drinks menu (the Guinness is really good here, too).
Sam's Chop House, Back Pool Fold, Manchester M2 1HN
0161 834 3210
The Briton's Protection
It doesn't get much cosier than this; The Briton's Protection is one of Manchester's oldest pubs (are you noticing a pattern here?) and specialises in possibly the most wintery drink there is: whisky. 
The pub can showcase up to 300 whiskies at any given time and features those classic old pub stools and circular tables crammed into a warm corner. Picture that on a cold Friday night after work… You can't beat it.
The Briton's Protection, 50 Great Bridgewater St, Manchester M1 5LE
0161 236 5895
Peveril of the Peak
Of course Peveril of the Peak was going to crop up at some point – it is one of the most recognisable pubs in the whole of Manchester, after all (just look at that two-toned yellow and green brick exterior).
But on the inside, the Pev provides a seriously good atmosphere, the kind only achieved by the most traditional of boozers. Inside, guests can sit on original wooden benches among stained glass window, etched mirrors and brass bells. Classic.
The Peveril of the Peak, 127 Great Bridgewater St, Manchester M1 5JQ
The Peveril of the Peak Facebook
The City Arms
The historic City Arms, located smack in the middle of Manchester's city centre, has been a regular entry in the Good Beer Guide for years and boasts all those lovely old pub features, including those built-in Chesterfield sofas and circular tables just begging for a packet of crisps to be opened and spread out upon them.
As is the case with this style of old-age pub, The City Arms really comes to life in the colder months and provides a comforting and cosy abode for Mancunians escaping the rain.
The City Arms, 46-48 Kennedy St, Manchester M2 4BQ
0161 236 4610
Bayhorse Tavern
Ah, the Bayhorse Tavern, a haunt well known and loved by all those city-centre dwellers. While it may not be an ideal layout for those hot summer days (yeah, all three of them), it is the perfect spot to shelter from the rain.
The Bayhorse has a cracking selection of beer and also do a banging roast on a Sunday – the ideal place for the whole of autumn and winter, then.
Bayhorse Tavern, 35-37 Thomas St, Manchester M4 1NA
https://thebayhorsetavern.co.uk
The best places to enjoy a gin & tonic in Manchester this Easter weekend
The perfect excuse to indulge in a couple of gins this weekend…
The Easter weekend is coming up and the forecast is for warm sunny weather, which calls for one thing and one thing only; a definitive round up of the best spots to enjoy a G&T here in Manchester.
Now, it's no secret that here in Manchester we're spoiled for choice on where to enjoy a tipple or two. And, if gin is your tipple of choice, you certainly won't be left wandering the streets aimlessly in search of that perfect drink.
So, without any further ado, here's our favourite Mancunian spots to enjoy a gin & tonic…
Three Little Words
Because of course Manchester Gin's very own distillery and bar was going to make the ultimate G&T list. The venue, located down Watson Street, boasts its own distillery, meaning every last drop of Manchester Gin is made there and then on site.
The Spirit of Manchester Distillery also also gives guests the opportunity to make their very own gin, as well as learn the ins-and-outs of distilling.
On the actual drinking side of things, their bar boasts every variety Manchester Gin has to offer, including their new Oyster Gin, as well as a whole array of other gins from across the U.K and beyond. 
Three Little Words, 2-13 Watson Street, Manchester, M3 4LP
threelittlewords.co.uk
Atlas Bar
Found at the bottom of Deansgate, Atlas Bar is definitely one of the better known gin bars in the city. Boasting a massive collection of 560 gins – both local and global – guests are truly spoiled for choice when it comes to selecting their tipple.
Atlas Bar also features a heated outdoor terrace, perfect for both summer evenings and those chillier winter nights. 
Atlas Bar, 376 Deansgate, Manchester M3 4LY
atlasbarmanchester.com

The Old Bell Inn
A little bit further afield in the village of Delph, Oldham, stands The Old Bell Inn, which is an actual world record holder thanks to its vast collection of gin – all 1,100 of them.
You can't compete with that, can you?
And, as well as it's extensive gin offering, The Old Bell Inn is also well loved for its classic 'countryside pub' vibes and dazzling views of the Saddleworth Moor – the perfect place to sit back and relax with an ice cold G&T, if you ask me.
The Old Bell Inn, Huddersfield Road, Delph, Oldham OL3 5EG
www.theoldbellinn.co.uk
Seven Bro7hers 
Yes, I'm well aware that I've included a taproom on this list but hear me out; the iconic Salfordian brewers have recently dabbled in the world of distillery by launching their very own gin brand, Sis4ers Distillery. 
Their distillery has produced a number of different botanical blends with tasty flavours such as strawberry, lime and thyme, espresso and passionfruit. 
Seven Bro7hers, 39 Blossom Street, Ancoats, M4 5AF | Lockside Lane, Salford, M5 4YP
sevenbro7hers.com
Lono Cove
Having only opened recently, the Northern Quarter's newest tiki bar Lono Cove features two floors of 'contemporary' tiki fun, including treasure chest cocktails and an abundance of greenery… Oh, and plenty of gin.
While tiki bars are usually associated with rum (there's plenty of that, too), Lono Cove boasts an impressive selection of gins that can be enjoyed with tonic or in their many cocktails. 
Lono Cove, 14 Thomas Street, Manchester, M4 1DH
lonocove.com
The Black Friar
G&Ts taste better in a lush green beer garden, so of course The Black Friar had to make the list, with its stunning outdoor space.
The iconic Salford boozer recently reopened after eighteen years of no action and a massive transformation, and it is now the place to enjoy some gourmet pub grub and a couple of gins, either with tonic or in the form of a tasty cocktail.
The Blackfriar, 41-43 Blackfriars Rd, Salford M3 7DB
theblackfriarsalford.co.uk/ 
CITY GUIDE: The best rooftop bars Manchester has to offer
Who'd have thought rainy Manchester would have so many options?
The Easter bank holiday weekend is here and it's set to be a sunny one, so we might as well make the most of it with a couple of trips to Manchester's rooftop bars.
Rooftop bars?! I hear you ask.
Yes, it turns out that Manchester actually boasts an admirable selection of venues that offer a rooftop experience while you enjoy your drink. 
Here's some of our favourites…
20 Stories
Let's start with an obvious one, shall we? 
This venue is arguably one of Manchester's most Instagrammable spots with stunning views of the city from, you guessed it, the twentieth floor. I wonder where they got their name from?
Anyway, 20 Stories offers impressive food and cocktail menus, a whole array of greenery and trees, and an outdoor fire pit.
20 Stories, No 1 Spinningfields, 1 Hardman Square, Spinningfields, Manchester, M3 3EB
0161 204 3333
20stories.co.uk
YES
Believe it or not, one of Manchester's most popular music venues has an actual rooftop bar. 
If you make it past the suitably dark and dingy music basement, all the pizza and beer on the first floor and the pink room on the second (yes, this venue has an actual room dedicated to the colour), you'll find yourself out on the third floor in their makeshift rooftop bar.
Though it doesn't boast the views from twenty stories high, it makes up for it with beautiful decor, holiday vibes and, most importantly, £3 pints.
YES, 38 Charles St, Manchester M1 7DB
www.yes-manchester.com
The Ivy
This up-market Spinningfields spot offers a unique twist on a rooftop bar with their 'roof garden.'
Guests can enjoy food and cocktails amongst an abundance of florals, foliage and colourful fabrics, all creating an enchanting oasis in the heart of Manchester's city centre.
And thanks to its retractable roof, The Ivy Roof Garden is open seven days a week, come rain or shine.
The Ivy Spinningfields, The Pavilion, Byrom St, Manchester M3 3HG
theivymanchester.com
Terrace NQ
It says it in the name, doesn't it?
Nestled down the Northern Quarter's Thomas Street, Terrace NQ offers a little solace to those desperate for a bev in the rare Mancunian sunshine. 
Its secluded rooftop terrace is adorned with fairy lights, unique furniture and a fantastic atmosphere, so makes for the ideal spot to enjoy some sunshine.
Terrace NQ, 43 Thomas St, Manchester M4 1NA
0161 819 2345
The Con Club
All the way over in Altrincham, The Con Club offers a fantastic sun spot complete with a tipi for those impromptu spells of rain – we do live in Manchester, folks.
The Con Club's rooftop remains relatively unknown, and the restaurant is only accepting walk-ins, so your chance of getting a seat are high!
The Con Club, 48 Greenwood St, Altrincham WA14 1RZ
0161 696 6870
conclubuk.com
Atlas Bar
Okay, this Deansgate staple might not technically have a rooftop bar… but it has an outdoor bar around the back that's suspended in the arches below the roof, so that definitely counts.
It's easily one of the best terraces in the entire city centre, and with a choice of more than 500 gins, it's certainly one of the more desirable locations in town when the sun comes out.
Atlas Bar, 376 Deansgate, Manchester M3 4LY
0161 834 2124
atlasbarmanchester.com
Hatch
Okay, we're pushing it a bit with this one, considering that the Oxford Road foodhall is literally plonked directly under Mancunian Way.
But we have to give it to the staff over at Hatch – they've been brilliantly creative with their use of space and have somehow managed to make a couple of rooftop bars that get a lovely dose of sun for most of the day.
Grab a few beers, order some food and enjoy.
Hatch, 103 Oxford Rd, Manchester M1 7ED
hatchmcr.com
Big Hands
Another unexpected one, this staple part of Manchester's music scene actually offers a small and secluded roof terrace for guests to sit and enjoy the sun with a can of Red Stripe.
Expect naughties leather sofas, film posters and an epic dance floor if you fancy a few drinks in this haunt over the weekend.
Big Hands, 296 Oxford Rd, Manchester M13 9NS
0161 272 7309