The top quality £10 steak and chips deal that you need to know about
If you're looking for somewhere to go for an affordable midweek date night, Canvas Social is the place!
Canvas Social are offering an irresistible price for steak and chips at its swanky new restaurant space.
Canvas on Oxford Road is fast becoming one of the hottest self-contained event spaces in the city, with a menu to make your mouth water — all for a reasonable price. This stylish new venue opened its doors last summer in the city's new fashionable district at Circle Square.
It's already known for its vibrant entertainment held across several floors and its spacious, minimalist industrial style. But what you might not know so much about this cool hangout is the restaurant upstairs, now called Canvas Social after having an overhaul.
This airy dining space has a classy feel and a more relaxed vibe to it, where you can chill amongst the art as you slump into the soft leather chairs. The new kitchen team at Canvas Social is Ellie Grimshaw and Kyle Wilson, the same people behind the nearby pop-up shipping container village, Hatch.
After their recent venture, Block Steak Shop, the pair have now moved into this new space at Canvas Social serving French-style steak frites alongside its North American cousin, the Philly cheesesteak sandwich, and somewhere in between the two cuisines, the LA-born French dip sandwich. 
If those work lunchtime salads just haven't offered you enough substance and you're looking for a treat involving some stodgy goodness, the steaks here will definitely hit the spot. While they're not your special occasion fanfare steaks — like the kind you'll find at Hawksmoor — they are juicy and come in a variety of servings to please both your palette and stomach.
Meat is locally reared, grass fed, free range and dry aged sourced from top Manchester butchers Littlewoods. A perfectly cooked bavette (£12.50) or flat iron steak (£10.50) are served with your choice of sauce (they do a creamy peppercorn) and a big rustling pile of skinny rosemary and sea salt fries. It's a cracking midweek dinner for just over a tenner.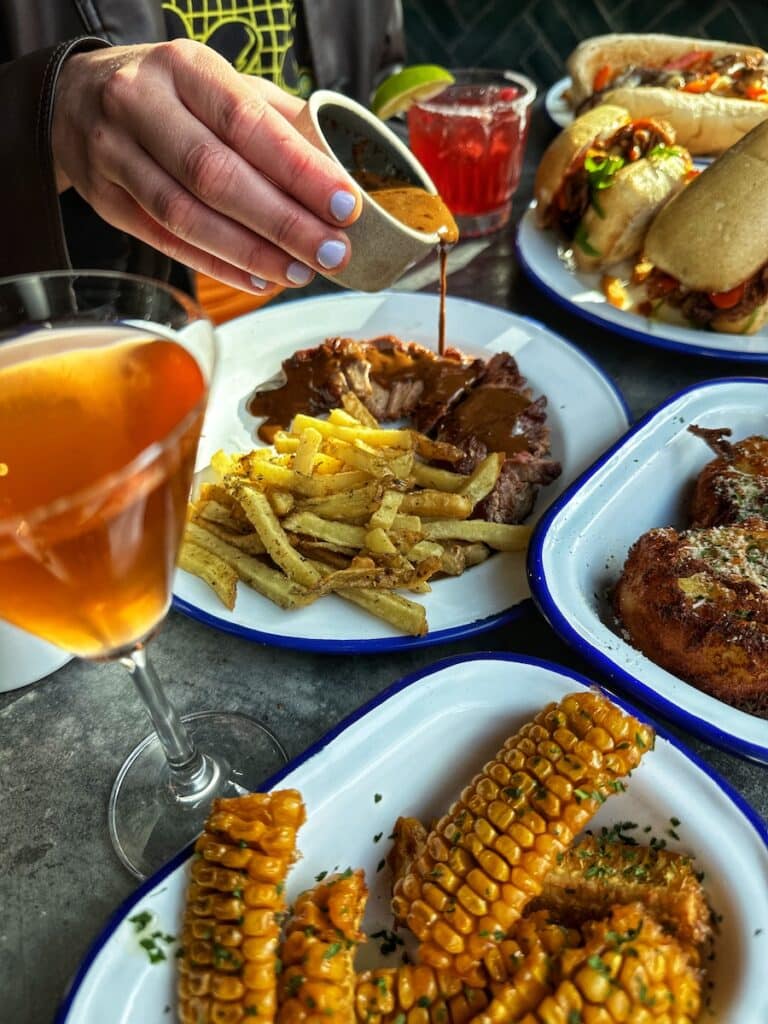 The drinks menu has had an overhaul too and if you're watching the pennies, you'll like the price of the cocktails. For £4.50 you can get any cocktail, including a Pornstar Martini, and the wine list is easy on the wallet too.
An Entreflores Crianza D.O.C Rioja to accompany your bavette steak and chips costs £4.50 and is the most expensive glass of wine on the menu. The house red and white at £12 a bottle is an absolute steal bringing a steak dinner for two with a bottle of wine to well under £40 — get in!
If you're hungover or wanting to line your stomach before going to a gig downstairs, you might want to go for the extra carbs that a Philly cheesesteak sarnie provides. Seared steak is stuffed into a sub roll with fried peppers, onions and melted mozzarella cheese. It's also served alongside those house fries seasoned with rosemary salt and is even cheaper at £10 exactly. The French dip is the same price and served with a pot of beef jus (gravy to you and me) for dunking.
If you aren't into steak, there's also a fried buttermilk chicken ciabatta with buffalo sauce and melted mozzarella. Or you can get stuck into some loaded beef dripping fries topped with either hoisin duck or chorizo.

Veggies can get in on the action too, replacing the steak with meaty Portobello mushrooms. And if that's not enough, sides include buttery, spiced corn ribs and deep-fried dauphinoise potatoes.
Canvas Social is open Tuesday-Sunday with food served from midday-9pm. The bar is open until midnight. Find out what's on or book a table at the Canvas website.
Gordon Ramsay's 1930s Tokyo-inspired restaurant is opening next month
This looks phenomenal!
Bookings are now open for Gordon Ramsay's highly anticipated 1930s Tokyo-inspired restaurant in Manchester.
Michelin-starred celebrity chef and restaurateur Gordon Ramsay is thrilled to announce the grand opening of Lucky Cat, in Manchester, on Thursday June 1st.
This marks the first major opening for Ramsay in the city and the second Lucky Cat worldwide, further cementing the region's reputation as a leading destination for food, drink, and entertainment.  
Reservations are now open ready for the Japanese-inspired restaurant's June debut — which will offer an unrivalled dining experience at the top of King Street.
The Manchester location promises to be a dining experience like no other, capturing the essence of the original Mayfair eatery in the very heart of the city in a truly iconic building —the old HSBC Bank and former home of fellow celebrity chef venture Jamie's Italian.
Situated at the top of King Street with its upmarket retailers and designer stores, the venue resides within a breath-taking and fitting Art Deco building, standing majestically alongside Manchester's iconic Gotham Hotel.
The restaurant spans three floors — meaning the building's famous Bank Vault will be in use once again — and features opulent dining vaults, paying homage to the building's heritage while offering a dining experience like no other to the city of Manchester.
In addition to the main restaurant, there are also extensive private dining spaces and private bars to elevate every event.
Lucky Cat masterfully fuses the vibrant atmosphere of 1930s Tokyo kissas and drinking dens. Diners can expect the ultimate dining experience, complete with world class wines and cocktails, and live DJ sets.
Embark on a gastronomic journey of culinary icons, such as succulent black cod, sumptuous sirloin weeping tiger and the legendary Lucky Cat Duck Bao. Journey onward to the ocean's depths with sublime sushi and raw dishes, from tuna tartar to mouth-watering dragon rolls.
An innovative cocktail list includes the one-of-a-kind Lucky Negroni, where the gin in your drink is determined by a captivating game of chance.
With three dice hidden inside a mysterious box, the numbers rolled will unlock the perfect combination of gins, vermouths, and bitters destined for your drink. With a staggering 216 possible combinations, each Lucky Negroni will be a personalised, exhilarating experience, crafted by fate itself.
Gordon Ramsay shares his unbridled enthusiasm for the project, with a nod to Manchester's vibrant dining scene, saying: "I've toured and worked in much of Asia over the years, and the culture, the flavours, and the incredible cooking truly inspire me.
"Manchester is renowned for its thriving culinary landscape, and I'm thrilled to be a part of it.
"We're fired up to build on the phenomenal success of our Mayfair restaurant and bring something truly exceptional to the people of Manchester this Summer. I can't wait for Lucky Cat to make its mark in this fantastic city!"
Book now to be among the first to experience this world-class dining destination — tables are expected to fill up fast. 
Bookings can be made on the website or call 0161 424 9150 for restaurant and group reservations, or 0207 5921373 for private dining and event enquiries.
McDonald's launches new dipping sauces for nugs including garlic mayo and mega hot
Big news for Maccies lovers!
McDonald's has launched a new menu range including four top tier limited edition dips.
The fast food giant has announced an impressive new menu to come as we sadly wave goodbye to the Chicken Big Mac — for now.
The chain's brand spanking new range of mouth watering food items will feature the return of an old favourite with the option of its spicy counterpart, as well as some tasty new dips fans have long been waiting for.
The Big Tasty is coming back as well as the Big Tasty with Bacon, and a new addition set to make your taste buds tingle…the Spicy Big Tasty.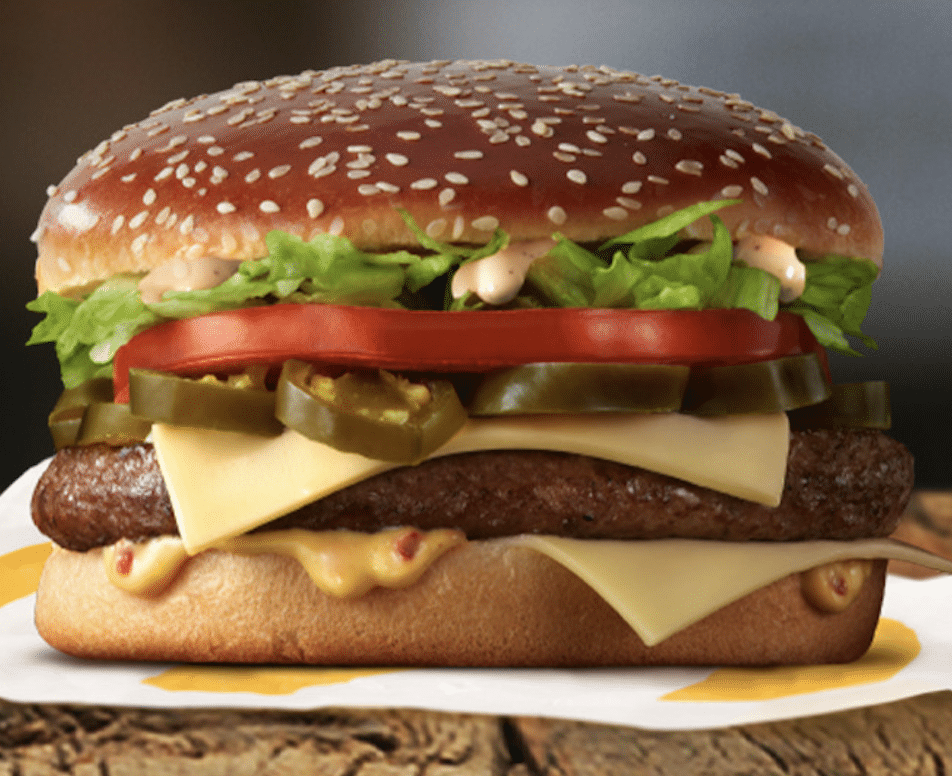 Just like the original, the Spicy Big Tasty will be made with a 100% beef patty, Emmental cheese, lettuce, tomato, bacon and Big Tasty sauce, with a 'jalapeño twist'.
But the burgers aren't the only exciting new addition to the menu.
We've all been banging on about sauce flavour suggestions and it seems McDonald's has been listening.
As our beloved McNuggets turn 40 this year, to celebrate a whopping four decades, Maccies is offering four limited edition dips that will land throughout the month.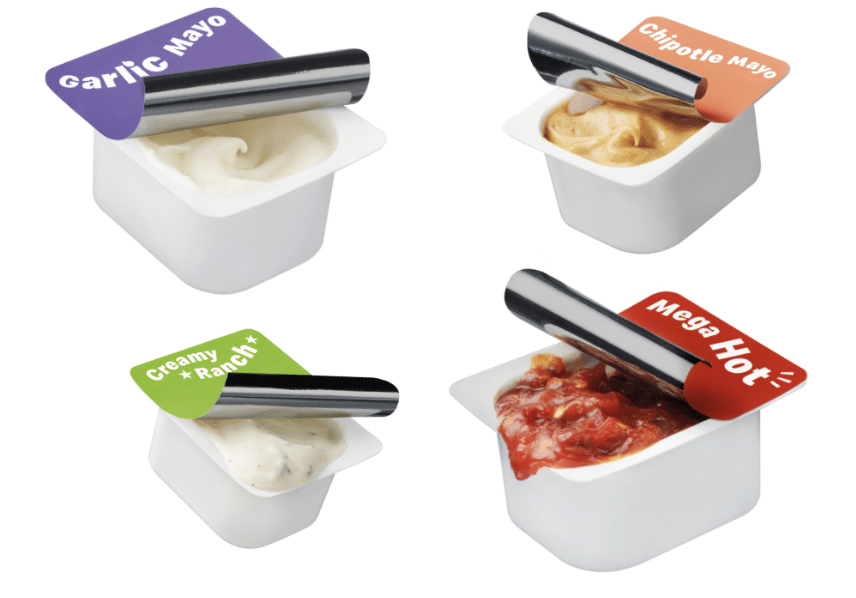 From May 10th, you'll be able to get your hands on a fiery Mega Hot Sauce dip, as well as a long-awaited new Garlic Mayo, which promises a 'delicious creamy garlic flavour'.
The franchise says that fans have been asking for a Garlic Mayo since forever — so, if you've ever needed an excuse to treat yourself to a cheeky box of nugs, now's your chance.
Then, on May 31st, you'll be able to grab a new smokey and spicy Chipotle Mayo as well as an American favourite, Creamy Ranch dip — which McDonald's call 'the best thing to come from across the pond'.
The sauces will be available for a mystery length of time, 'until stocks last'.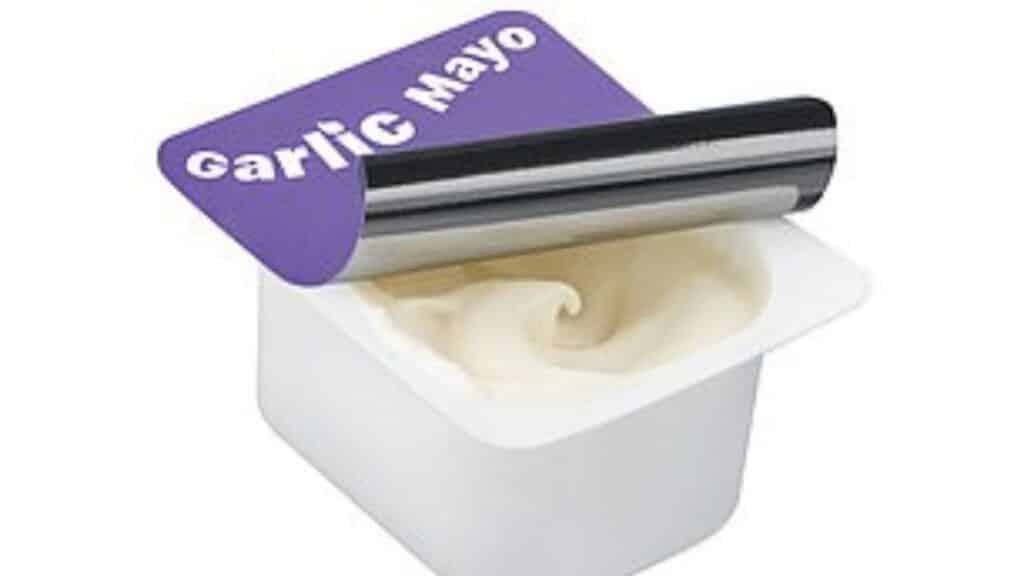 McDonald's released the iconic McNugget back in 1979. It was an instant hit that the chain couldn't keep up with demand.
Chef René Arend, who perfected the McNugget, revealed that McDonald's couldn't actually supply that much chicken. By 1983, this was fixed — and the McNugget was officially born.
The chain makes our beloved nugs in four shapes: the bell, the bow-tie, the ball and the boot.
And if that's not enough, there's more exciting items coming our way. Everyone's favourite sidekick, Halloumi Fries, are also making a comeback.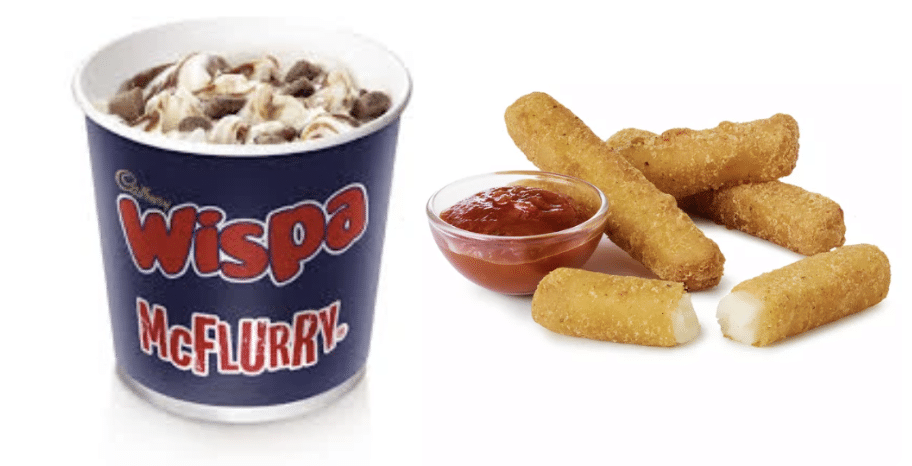 For those who have never had the pleasure, it's a portion of 'four delicious halloumi cheese sticks coated in a light batter, served with a rich tomato dip'.
That's all the savoury items, now for something sweet. Fans of the food can also expect to find old classics, Wispa and Wispa Gold McFlurrys.
These are made up of  'soft dairy ice cream, swirled with Wispa chocolate pieces and a chocolate sauce', and 'soft dairy ice cream with Wispa chocolate pieces and a Cadbury caramel sauce'. 
We can't wait to try these!
There's a drive-in cake bakery in Greater Manchester serving up incredible scran
How's that for convenience?!
There's now a dreamy drive-thru cakery in Greater Manchester — yes, that's right.
Wonderlust Bistro and Bakery on Library Lane, Oldham, first opened in February and is a real family affair headed by baker, Saarah Chowdry, brother Mohammed and mum Shelley Rahman.
Their incredible decadent sweet treats and bakes are to die for and have been sending locals wild as they harp on about this little Oldham gem.
Even The Oldham Times has said it could 'rival any Manchester bistro'. It's hard to miss this slice of heaven with its bright pink exterior with purple hues and dreamy clouds offering a piece of paradise for hungry visitors.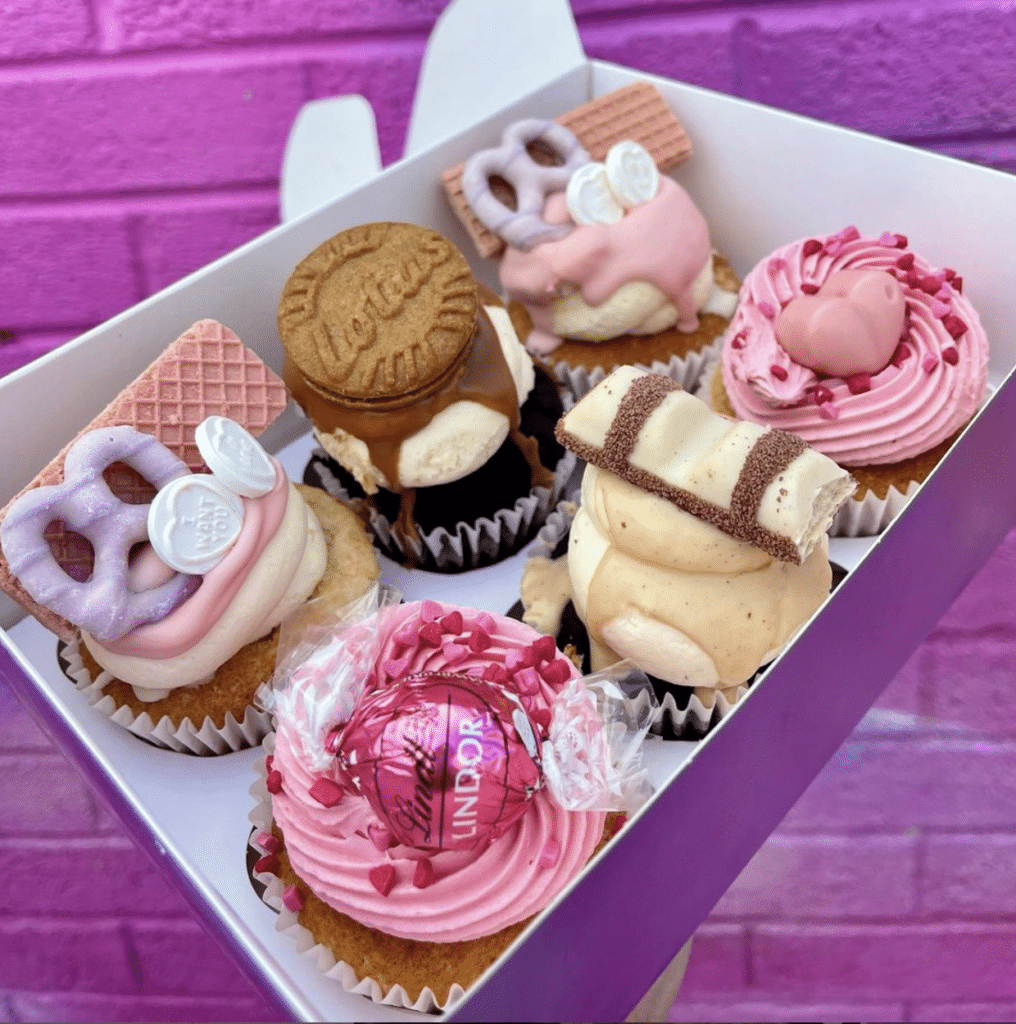 This wonderland offers a mouth-watering menu too. Not only is it filled with all things sweet and cake-like, it also offers bistro dishes ranging from roast dinners, to corn dogs, fry-ups, pancake stacks and more.
The demand for their treats has rocketed to the point that the team has recently launched its own 'car service'. This means that visitors can easily pull up, place an order and have their gooey goodies brought directly to them.
With its opening times from 5pm until midnight, this is definitely the place to go for a cheeky late-night treat.
It's a paradise for those with a sweet tooth who can choose from anything ranging from Jammy Dodger and Kinder Hippo cupcakes, Biscoff-stuffed cheesecake, milk cake, Snickers brownies and Nutella-filled cookies, all on offer from the bakery.
Here's how to take advantage of the bakery's new cake-to-car service: Those driving in for the car service are asked to park in the bakery and bistro's rear car park.
Sharing the update in an Instagram post, the Wonderlust team wrote: "Due to overwhelming demand, we are introducing our car service for Wonderlust Bistro & Wonderlust Bakery! You can place your order via 07531557354 for food, cakes & drinks.
"How to order: (Open from 5pm – 12am Wednesday- Saturday)
"- Park in our car park
"- Call 07531557354
"- Place your order and provide your reg plate
"- Someone will bring your order out and we'll take payment via cash & card"
(Wonderlust Bistro, Library Ln, Oldham, OL9 6DZ . Open 5pm-12am Wednesday- Saturday).