Noel Gallagher is recording a new Oasis album without Liam
Would you listen to it?
Noel Gallagher has given Oasis fans the news they want to hear, but not in the way they would have liked it.

The singer revealed that he was going to record a new Oasis album, but that his brother Liam wouldn't be involved.

Noel and Liam have been locked in an ongoing feud ever since the band split 12 years ago, and fans have been calling for a reunion ever since.

But Liam won't be contributing to the new album, which will feature 14 Oasis songs that previously didn't make the cut.

Noel told The Sun: "I've listed the proper songs and there were 14. They just fell by the wayside of various projects from down the years.

"I'm going to record them. Some are quite old school."

He added: "I was looking at the track listing and thinking, 'Actually, f*cking hell, no I'd approach that song differently. It's been very interesting."

When the band split back in 2009, Noel released a statement saying: "It is with some sadness and great relief… I quit Oasis tonight.

"People will write and say what they like, but I simply could not go on working with Liam a day longer."

Since then, both Noel, 53, and Liam, 48, have continued with music, with Noel forming Noel Gallagher's High Flying Birds, and his little brother setting up Beady Eye before going solo.

The pair have feuded ever since, although Liam has occasionally fueled speculation the band could get back together, and as recently as New Year's Day this year he tweeted: "Happy New Year Noel love you long time 2021 is our year c'mon you know."

Would you listen to an Oasis album without Liam?

Liam Gallagher to play Oasis' Definitely Maybe next year to mark 30th anniversary
He'll play the album in its original order at 'a few biblical venues'
Liam Gallagher will play Oasis' Definitely Maybe album's full track list next year to mark its 30th anniversary.
Liam Gallagher announced on social media, on Thursday May 11th, that he intends to play Oasis's album Definitely Maybe in full to mark 30 years since its release.
He told his fans to expect to see him back on stage next year to play the entire iconic album in its original order to celebrate it.
'Definitely Maybe' was the first full-length LP from the iconic British indie-rock band, which Liam founded with his brother Noel. 
Tracks taken from the album to be performed live by the singer-songwriter include fan favourites 'Rock 'N' Roll Star', 'Live Forever' and 'Supersonic'.
Liam tweeted yesterday: "As it's 30 years since [Definitely Maybe] was released next year I'm gonna be playing the album from start to finish in its original order at a few BIBLICAL venues." 
Although it isn't yet clear what 'biblical' venues the ex-Oasis frontman is referring to, the shows will undoubtedly sell out, especially as fans have been persistently calling for an Oasis reformation in recent years.
Although Liam isn't the only Gallagher brother celebrating three decades of Definitely Maybe. Just last month, Noel said that the band would be honouring 30 years of the breakthrough LP by sharing an anniversary reissue.
Alongside new artwork and the original tracks, the forthcoming reissue will also feature previously-unreleased songs – recorded at the same time that the album was made – as well as demo versions of their most famous hits.
According to the High Flying Birds frontman, this will specifically include acoustic versions of best-loved hits including 'Live Forever', 'Slide Away' and 'Supersonic'.
In the run-up to the anniversary, numerous Oasis fans have been hopeful that the band may reunite, even if just to perform on tour in honour of the milestone. 
These hopes were fuelled by suggestions made by Liam online and both brothers saying they would be open to the idea should the other one reach out.
According to NME, in February 2022, Liam said that Oasis 'should never have split up', and that he would 'love' the iconic band to get back together.
In response to Liam, earlier this year, brother Noel also explained that he would be open to the concept of reforming, and confirmed that he would 'never say never' to a reunion.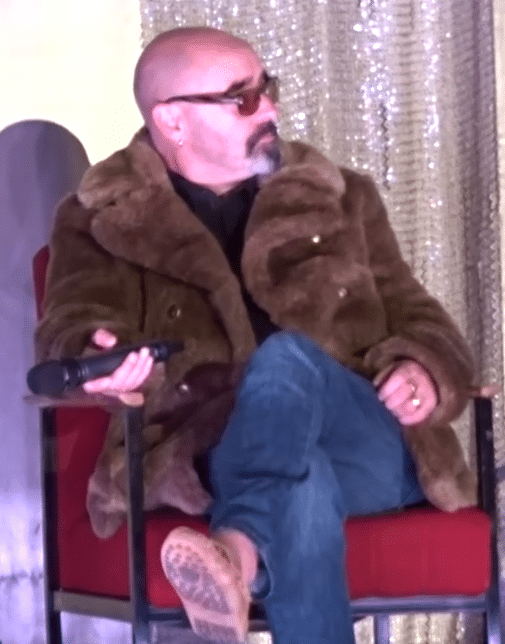 In further Oasis news, the band's former guitarist Paul 'Bonehead' Arthurs offered his thoughts on a potential reunion, saying he is supportive of the idea because of how much it would mean for younger generations.
He told Radio X: "Some days you wake up and think 'Nah, there's no need for it. It's been done'. But when I'm on stage with Liam Gallagher as a solo artist, and I come out and we play 'Rock 'N' Roll Star', the place erupts. 
"People are bouncing higher and harder than they did at some of the gigs back in the day. I look at the first ten rows when I'm playing an arena with Liam, and they're like 16 or 17 years of age. 
"These people weren't even born until well into Oasis' career. So if there was a reunion, wouldn't it be worth it for them? … You hear that Liam? You hear that Noel?"
Busted announce comeback with massive UK arena tour 
JUST IN: Busted are back!
Iconic noughties band Busted have today announced a massive comeback UK arena tour.
The three-piece lad band had hits during the 2000's with earworm bangers including Year 3000, Air Hostess and What I Go To School For. It's been a couple of decades since the group  – comprising vocalists Charlie Simpson, James Bourne and Matt Willis, all 39 – burst onto the scene, and they have something very special ahead to celebrate.
Fans had a sneaking suspicion after the band had changed all of their social media banners to include the date of March 23rd — cryptically teasing that they are set to announce a comeback on that day.
Busted fans were exactly right as Busted made the announcement today, (Thursday March 23rd), revealing a massive 15-date UK arena tour kicking off in September, with tickets going on sale next week.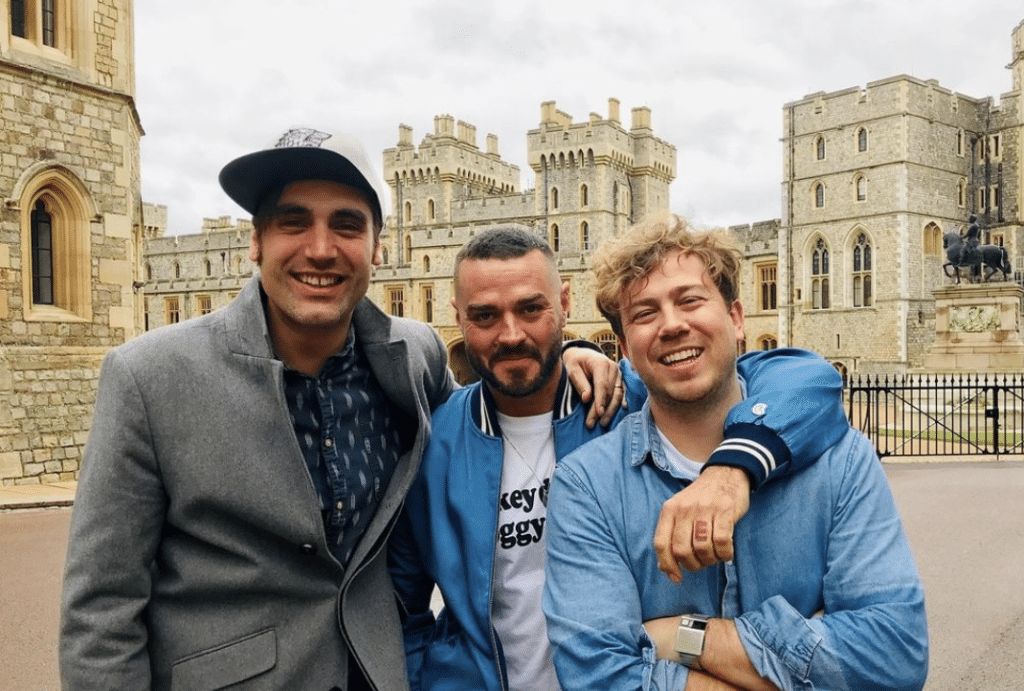 The tour will see James, Charlie and Matt perform their biggest hits along with fan favourites with support from Mmmbop stars Hanson and New Hope Club. The good news doesn't stop there — with the group preparing to release no fewer than 15 songs.
Rather than brand new tracks, Busted have created reworks of some of their most iconic songs and will perform them alongside some other major names from the scene. The first release is a new version of Loser Kid, from Busted's debut album. The track will hit airwaves on April 14th and will feature pop-rock stars Simple Plan.
Other upcoming singles will have special guests McFly, All Time Low and more, with names to be released at a later date. Tickets for the tour will go on general sale at 9am on March 31, however fans who sign up to Busted's mailing list will receive access to a pre-sale from 9am on March 29th.
As reported in The Metro, Rumours of a comeback for the group have circulated since Fightstar musician Charlie hinted to Lorraine Kelly, 'there may be some plans' for a reunion. 'It is the 20 year anniversary for Busted this year,' he added.
'Sworn to secrecy again… but there may be some stuff in the pipeline.'
Busted formed in 2000 and released their first, self-titled album in 2002 before their 2003 album A Present For Everyone threw them into even wider fame. They split in 2005 and devastated fans, with many remembering genuine tears in the playground the day the news was announced; all three went on to form solo careers or front new bands.
S Club 7 set to perform in Manchester in 25 year comeback tour
Their 25th anniversary tour is sure to 'bring it all back to you'
S Club 7 have announced they will reunite to mark 25 years in their UK comeback tour, and are set to perform in Manchester later this year.
The Brit pop group had hits throughout the late nineties and early noughties such as 'Reach', 'Bring It All Back' and 'Don't Stop Movin'', which were popular with many youngsters at the time.
All seven original members: Tina Barrett, Paul Cattermole, Jon Lee, Bradley McIntosh, Jo O'Meara, Hannah Spearritt and now solo singer Rachel Stevens, will come together once more to mark the quarter of a century milestone.
Fans can prepare to be transported back to their youth, and re-enact old dance routines, as the group will perform on stage together again at Manchester's AO Arena on Saturday, October 21st.
In a statement released by the band, they said; "After eight years it feels amazing to announce that we're reuniting and performing together again. We're so excited to bring the S Club party back to our fans across the country to celebrate 25 years of S Club 7.
"We can't even believe it's been so long. Music and friendship have always been at the core of everything that we've ever done. We hope everyone can join us for one big party."
The seven-piece group were originally created by former Spice Girls manager Simon Fuller in 1998 and first came to public attention in 1999, when they starred in their own television series, 'Miami 7'.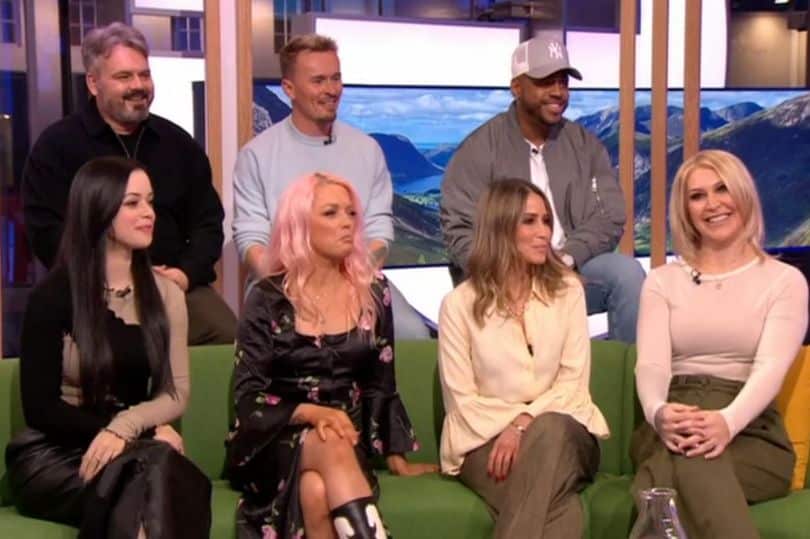 After they called it a day, the members went on to explore other pursuits, with Stevens pursuing a solo music career and competing on Strictly Come Dancing, as well as Dancing On Ice.
Spearritt became a TV actress and had roles in ITV's Primeval, while Lee performed in West End shows including Les Miserables and Jersey Boys. McIntosh, O'Meara and Cattermole later became members of the spin-off group S Club Allstars, previously S Club 3, with Barrett joining them in 2014.
O'Meara, who also released solo music and appeared on Celebrity Big Brother in 2007, where, alongside Jade Goody and Danielle Lloyd she found herself embroiled in a racism row involving fellow competitor Shilpa Shetty. She has also gone through a number of back operations but says she now feels 'ready' to get back on stage.
Tickets for S Club 7's comeback tour go on sale on Friday and can be purchased via the Ticketmaster website.