'Harrowing' scenes as Afghan refugees arrive at Manchester Airport 'bewildered and exhausted'
'There was a lady there who, as her children lay on the floor sleeping on a blanket, wept quietly. She didn't know where her husband was.'
Throughout the last week, hundreds of refugees fleeing the war-torn country of Afghanistan have been arriving and preparing for their new lives here in Manchester.
After the Taliban took full control of the country earlier this month, the UK government vowed to take in more than 20,000 Afghan refugees over the coming years, with many of the immediate arrivals being housed in hotels near Manchester Airport. 
It was understood that as of last week, the three undisclosed hotels housing the 1,000 refugees here in Manchester were at max capacity. 
Sobering photos taken by the Red Cross have shown the moment refugees – adults and children alike – took their first steps on British soil.
Across the week, children were met with a warm welcome by various Red Cross volunteers, who were all waiting armed with cuddly toys and colouring books as a friendly and welcoming gesture. 
Many of the children were wearing the same clothes they had boarded the flight in days earlier, while some babies were still wearing the same nappies. Many were visibly cold in the unfamiliar Manchester climate. 
Ru Shepherd, an emergency response volunteer assisting with the arrivals at Manchester Airport with the Red Cross, recalled how quiet the passengers were as they arrived, saying the atmosphere in the terminal was 'sombre.'
She told the Manchester Evening News: "We were there to make sure they knew they were safe, to provide fluids and food and give them a change of clothes. It could be as simple as a bottle of water and some socks and shoes. Some had been in their clothes for up to three days.
"They were bewildered, exhausted. Everyone, including the children, were so placid and grateful. They were so very polite and just grateful.
"They were told what would happen next and where they would go – because they had no idea. They didn't even know which part of England they were in."
Ru detailed how there were some 'really poorly people' arriving at the terminal throughout the week, as well as some 'very new babies.'
She explained: "Really small babies and their cries were not like anything I had heard. Very meek. It was like a cat meowing."
Ru also recalled the overwhelming sense of sadness in the airport, saying she saw a woman 'weeping quietly' next to her sleeping children, adding: "She didn't know where her husband was.
"It's still on my mind. As team members we've all been reaching out to each other to make sure we're okay. It's a harrowing thing to witness and be part of."
For more information on how you can help the refugees fleeing Afghanistan, visit the following links:
British Red Cross
UNICEF
AllWeCan.org
United Nation Refugee Agency
Refugee Council
Coronation Street legend Julie Goodyear diagnosed with dementia
Just in
Coronation Street legend Julie Goodyear, who played Bet Lynch, has been diagnosed with dementia, her husband has revealed.
The 81-year-old who played the iconic pub landlady of the Rovers Return on the show sought medical advice after 'suffering forgetfulness' but there was now 'no hope of a reversal in the situation', her husband Scott Brand said.
He shared news of her diagnosis in a statement, writing: "My darling wife and I have had to come to terms with this heart-breaking diagnosis.
"Unfortunately, Julie has been suffering forgetfulness for some time and we have been seeking medical advice and assistance, but we now know that there is no hope of a reversal in the situation — and that her condition will get progressively, and perhaps speedily, worse.
"We have taken the decision to publicly announce the diagnosis as Julie still loves visiting friends and eating out.
"Inevitably she is recognised, and fans love to meet her – and she them – but she can get confused particularly if she is tired. I hope people will understand."
Goodyear played the leopard-skin-wearing, big-haired barmaid on the cobbles from 1966 to 2003.
Thanks to Goodyear, Bet Lynch became one of the ITV soap opera's longest-serving and best-loved characters.
The iconic actress also appeared on reality shows such as Celebrity Big Brother and Celebrity Fit Club.
Tragedy as police find body of missing man last seen leaving pub
Police have confirmed the body as being Christopher
Police have confirmed a body has been tragically found in the search for a missing man in Marple.
Christopher Barlow, 31, was last seen shortly after 1am on Sunday, June 4th after leaving the Royal Oak pub in Mellor, Stockport.
He was last sighted turning left to walk along Brabyns Brow from Town Street.
Police officers and specialist teams searched a specific area beside the Peak Forest and remained at the scene after the tragic discovery on Tuesday, June 6th.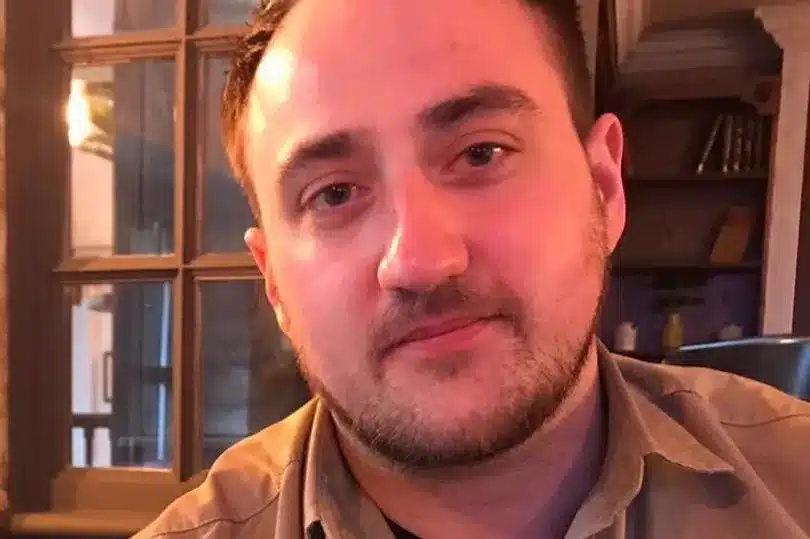 Greater Manchester Police have confirmed the body as being Christopher, and his family have been informed. A report is currently being prepared for the Coroner's Office.
Detective Superintendent Helen Critchley, of GMP's Stockport district, said: "Firstly, our thoughts are with Chris's family and friends at this very distressing time.
"I would also like to thank the local community for their support with the search and the wider public for their assistance in sharing our appeal."
According to The Manchester Evening News, on Monday evening (June 5th) the water search and marine unit, as well as a number of police vehicles and detectives were at the scene.
A large section of the canal was closed off to boats the next day as the search for Christopher continued. 
Canal towpaths were also taped off as divers went into the water and officers searched nearby woodland.
Man to complete visiting every Wetherspoon pub in Britain and Ireland this week
Now he only has one final pub left to visit
A man will complete his visit to every Wetherspoon pub in Britain and Ireland this week as he sips his final pint to conclude his mission.
Most people like to see how far they can make it in a pub crawl but David Bingham, 60, decided to take it much further than that.
The Derbyshire man, who set out on the task in 2019, will conclude his journey of sipping a pint at all 875 Wetherspoon venues this week, including the 40 that have closed.
Now he only has one final pub left to visit, and he's booked a flight at the South Terminal in Gatwick Airport in order to tick it off his long list.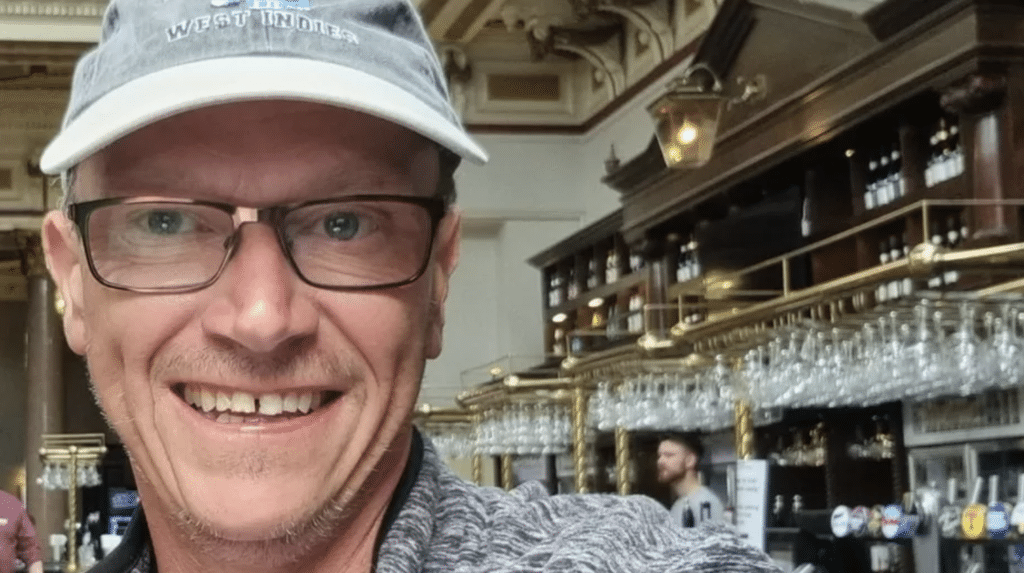 The last of the boozers will be The Flying Horse, which is conveniently located right after security at the airport. Wetherspoons has praised his dedication.
Mr Bingham, from West Hallam, has said his other passions are trainspotting and following Burton Albion. He took on the challenge while also pursuing his other hobbies. Mr Bingham told the BBC: "If we were going somewhere new, I'd suss out the Wetherspoons."
His partner Una Cooper bought him a directory of the pubs and he began ticking them off. "I've had a drink in most pubs, I'd say 85%," he said. 
"I'm a lager lad, definitely. The one in Ramsgate [in the Royal Victoria Pavilion] is my favourite because the history behind that building is incredible.
"But there are five police stations, there are churches, there's chapels, there's a tram depot, there's a fire station.
"They just save these fantastic buildings. I love architecture and I love buildings. It's a history lesson."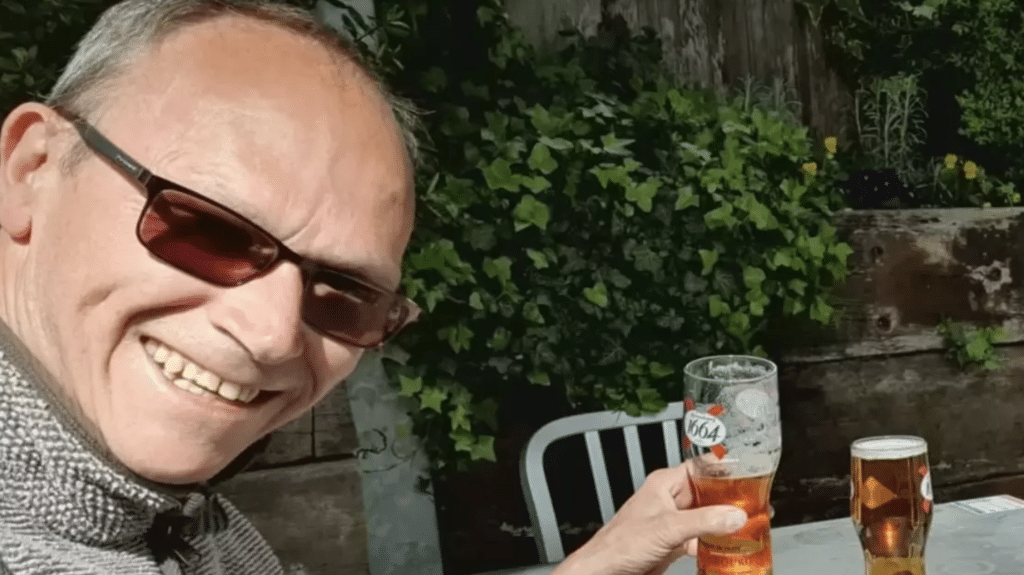 Wetherspoon spokesman, Eddie Gershon, said: "We applaud David Bingham on his outstanding achievement.
"Many people love to visit Wetherspoon pubs across the UK and Ireland, but only a handful have visited each and every one. David will now join that select group.
"He has obviously put in a lot of time and effort into achieving his goal and we thank him for his dedication to our pubs."