Married at First Sight is looking for single Mancunians for the new UK series
Fancy it?
Married at First Sight UK is looking for single Mancunians for the new series!
The Australian version of the show has been providing much entertainment for many throughout lockdown with shocking reveals and endless drama.
Now, the series is returning to the UK – and you can apply! 
Normally, in the past five series of Married at First Sight UK, the programme follows the couples separately on their journey to meeting each other. Then, we follow their first meeting on the aisle, their honeymoon and finally if they decide to stay married. 
However, the sixth season is set to be a little different. 
Leaning more towards the Australian format, the couples will no longer take part in a legally binding marriage and instead have a commitment ceremony.
The new series will also move to E4 from Channel 4 and undergo a huge makeover.
A statement by E4 explained: "Following the Australian format, rather than legal marriages, the couples will make a lifelong commitment to one another at a glamorous ceremony, overseen by a wedding celebrant, that includes guests, bridal gowns, dancing, speeches and cake.
"After the ceremony and celebrations are over, true love is well and truly put to the test, as they embark on a luxurious honeymoon, before moving in with each other AND their fellow couples.
"Relationships will be put under the microscope, by fellow brides and grooms at weekly dinner parties – as well as by the experts, at recurring commitment ceremonies, where couples choose whether they want to stay in or leave the process.
"All this and more will build to a dramatic series finale: glossy, high-stakes vow renewals, in which each couple must decide if they will recommit to their partner or go their separate ways."
Lee McMurray, Commissioning Editor, Factual Entertainment, said: "I'm thrilled to be refreshing one of the portfolio's most popular brands for E4, bringing extra scale and ambition to what is already one of the most audacious and provocative experiments on television, and delivering what we hope will be the most exciting series yet."
If you're single and willing to take on the thorough application process which includes a headshot and video, you can apply here.
Applications are closing soon so be quick!
Stars call for I'm A Celeb boycott after Nigel Farage joins camp
The rumours are true
Showbiz stars have called for viewers to boycott I'm A Celebrity…Get Me Out Of Here! after Nigel Farage joins the jungle camp line-up.
Fans have been left outraged after the official line-up for the hit ITV show was announced and included former UKIP member and controversial politician Nigel Farage.
To make matters worse, he's set to be the highest paid person in the history of the show when he enters the camp.
The reality programme, which has been going since 2002, has been no stranger to controversy. Just last year, the public were left outraged that Conservative MP Matt Hancock was a contestant on the show after the scandal of MPs having parties during the Covid lockdowns.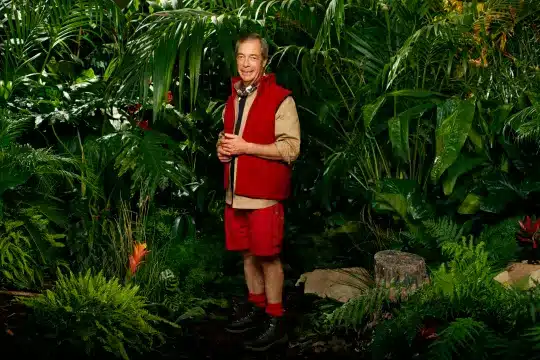 The disgraced former Health Secretary joined the series after being sacked for breaking Covid restrictions. It was reported that he was paid £400,000 to be on the show.
This year's line-up includes the sister of Brittany Spears, Jamie-Lynn Spears, This Morning presenter Jodie Gibson and First Dates' star Fred Siriex.
In response to Farage joining the camp, a number of TV stars have called for a mass boycott of the show, which is due to air on November 19th.
Comedian Laura Hughes has spoken out to say that if she were included in the line-up, she would immediately quit the show and sue ITV.
She said: "If I went on I'm A Celebrity and found out I was on the show with Nigel Farage, I'd leave and sue for racial negligence… but that's just me.
"I'd say that I'm quite shocked that ITV is platforming a racist as a form of entertainment, but nothing really surprises me anymore."
Kathy Burke also didn't mince her words as she said: "Quick, there's another hate baiting c**t available."
Journalist Bella Mackie took to Instagram to share that she would not be tuning in to watch the series. "He's apparently being paid £1.5 million," she said, before listing all the reprehensible comments Farage has made over the years.
She included him taking specific aim at Romanian people, people with HIV and the Aids virus, and saying women are 'worth less' to employers.
Calling for her followers to take action, she said: "I sincerely hope people don't watch I'm A Celebrity if he's on it this year. For real. How is this entertainment?"
Conservative MP Edwina Currie said last week that Farage's involvement in I'm A Celebrity could change the face of politics forever.
Meanwhile, the show's presenters Ant and Dec have been put under pressure by viewers and other celebrities to address the controversy of Farage's appointment.
Caroline Aherne's life to be celebrated in Christmas special on BBC
The special will celebrate the late star's life
Writer and actor Craig Cash says a Christmas special celebrating Caroline Aherne's life will air over the festive period.
Good friends Aherne and Cash worked together on The Royle Family and a number of other comedies over the years, until Aherne sadly died of cancer in 2016.
Cash said the late star asked him to cover for her and record the voiceover on Gogglebox after her diagnosis.
Aherne was the first presenter for the Channel 4 programme, providing the commentary for it since the show began in 2013 until shortly before she passed away.
Cash said it was during her treatment for the disease that she turned to him for help to cover for her when she was too sick.
"She just asked me if I'd do the show for her if she was poorly and when she had to go for chemo, so of course I said yes just to help out, because I couldn't help in any other way," he told the BBC.
He said he still feels her 'presence' when he records the voiceover for the show in the studio and said the work was like 'a gift that she left me'.
He said: "It was really lovely, because it feels like a gift she has left me and I'm very grateful.
"It felt like only natural I should keep doing it and I feel like she's with me sometimes.
"When I go in the studio where we used to record it, I can feel her presence sometimes.
"That feels a bit weird but true."
A Gogglebox 10 Year Anniversary Special aired this March to celebrate a great decade of TV, showing some of it best stand-out moments.
Cash and Aherne worked together on many projects over the years, including The Mrs Merton Show and The Fast Show, after they met in the 1980s.
Their work in both writing and acting on The Royle Family became their best known and loved.
Cash said the idea for The Royle Family, which was first broadcast on BBC One in 1998, was born out of an idea Aherne had while she was still working on The Mrs Merton Show.
The Stockport-born star said: "We wanted to write something that we knew and the likes of which we grew up in, as opposed to the posh middle-class families that you got on TV at that time.
"The working title was the Wythenshawe Project, because Caroline was from Wythenshawe and we set it in Wythenshawe.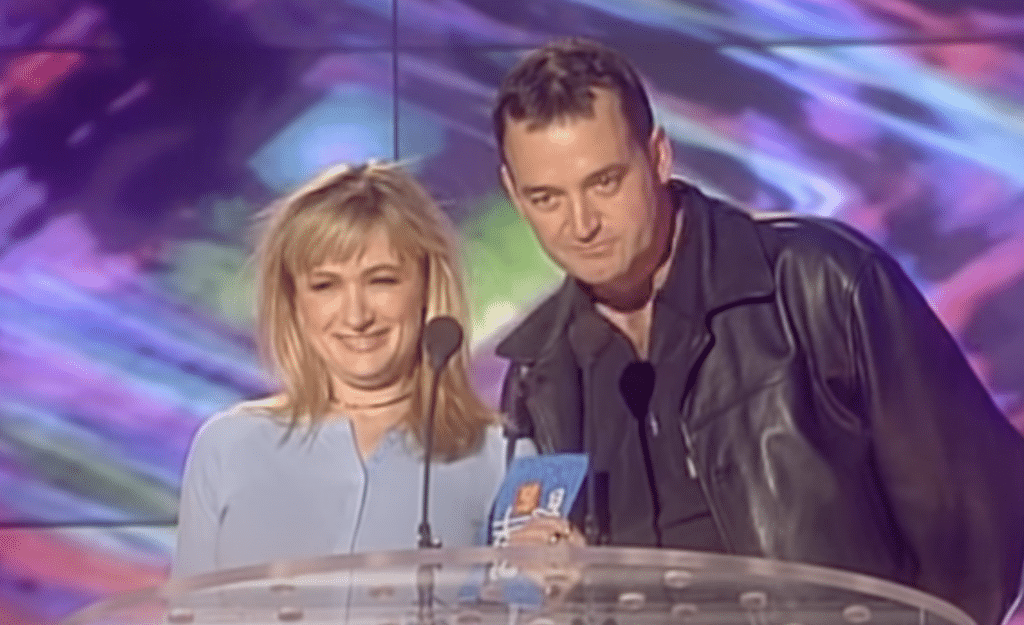 "We just wanted it to be about a family like our family really and that's what it ended up being, just sat there watching telly."
The show went on to become a British classic and is often repeated over the festive season where families sit together and laugh at the relatable humour.
But Cash admitted that when it was first developed, 'nobody wanted to make it, because it was just about people sat around talking drivel'.
Cash said he and Aherne 'had to convince them'.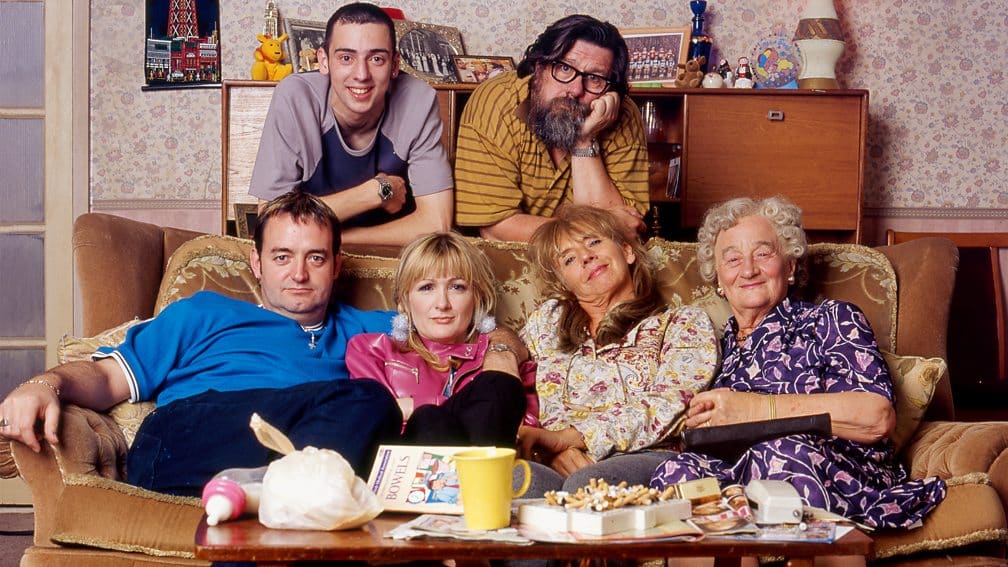 He continued: " Caroline actually threatened not to do any more Mrs Merton shows if they didn't commission it. She meant it as well."
Though he said some executives were still not convinced. 
"When we'd made it, they [still] didn't really want to put it out," he said.
"They were looking at and saying, 'people will be climbing the walls', because it's people just sat round talking."
Cash said he was delighted when the show found success but was shocked at how wide an audience it reached.
He said: "I thought it would only be popular in Manchester or the North-West. But I get in taxis in London and [the drivers] say, 'it's just like my house'.
"It turns out to be a lot of people's real lives."
The star said he speaks about how he still feels his friend Aherne's presence with him in the new documentary about her life, which is due to come out this Christmas.
New Harlan Coben Netflix crime thriller starring Michelle Keegan gets release date
Can't wait for this one!
The release date for a new Netflix crime thriller series starring Michelle Keegan has now been confirmed.
From the writer of The Stranger, this new series – coming soon – looks positively binge worthy and is sure to have viewers gripped to the edge of their seats.
The eight-part series Fool Me Once is Netflix's latest Harlan Coben adaptation, taken from his popular novel. 
The plot follows Maya Stern, played by Keegan, a former special ops pilot who's struggling to come to terms with the tragic murder of her husband, Joe, played by Richard Armitage.
But after installing a nanny-cam to watch over her daughter, Maya sees a man in her house she recognises – her dead husband.
Detective Sergeant Sami Kierce is leading the homicide investigation into Joe's death, whilst also battling secrets of his own.

Meanwhile, Maya's niece and nephew are dealing with their own mother's murder, which occurred a few months earlier, and they're on the hunt for answers. Could the two cases be connected?
The sneak peek stills look very promising and reveal a stellar cast including the likes of Joanna Lumley (Absolutely Fabulous), Adeel Akhtar (Sherwood), Emmett J Scanlan (Peaky Blinders) and Dino Fetscher (Paranoid).
Lumley plays Judith Burkett, Joe's very protective mother, and Adeel Akhtar takes on the role of Detective Sergeant Sami Kierce. 

Filming took place in Manchester, where Keegan was spotted earlier this year, as well as Yorkshire, where production crews were spotted in Halifax.
Screenwriter Danny Brocklehurst said: "Following on from our smash hits 'The Stranger' and 'Stay Close,' 'Fool Me Once' does not disappoint.
"Harlan's books are storytelling genius and it's great to be entrusted once more in bringing his gripping stories of life. As always with our thrillers, expect twist upon twist and an emotional roller-coaster. Plus, the cast is phenomenal – audiences are in for a treat!"
Fool Me Once lands on Netflix on January 1st, 2024 – guess we'll all be spending New Year's Day bingeing this then!