Cabaret with sword-swallower and aerial acts coming to a Manchester rooftop
A sword-swallower, contortionists, unicyclists and a woman who likes to be suspended by her hair are some of the creme del la creme cast featuring at La Clique
An internationally acclaimed, award-winning circus and cabaret is coming to a Manchester rooftop next week.
La Clique will wow audiences with its stunning performances for a limited six-week run as it takes over the rooftop of Manchester Depot Mayfield.
Presented by live entertainment company Underbelly, La Clique will blow audiences away with its genre-defining cabaret — set to take off Thursday May 25th.
The show has chosen Manchester for its very first North of England residency, after several years of success in London and Edinburgh.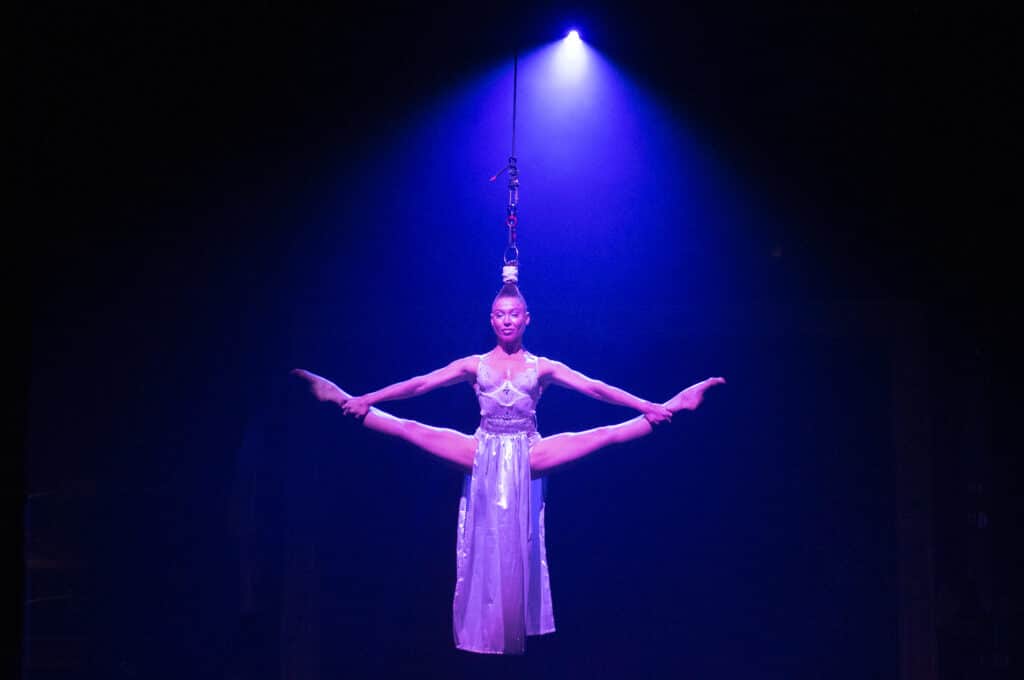 Born in the UK's comedy capital of Edinburgh, Underbelly Festival launched in London's Southbank in 2009 and ran for 10 years on the banks of the Thames. It has also run pop up events in Leicester Square, Cavendish Square and Earls Court.
A beautiful 1920s Spiegeltent — much like a traditional circus — will deck the roof of Depot Mayfield ready for the launch of this trailblazing show.
Inside, there's a central circular stage with multiple seating options, including private booths for up to eight adults, each table coming with a bottle of prosecco.
The internationally acclaimed cabaret will bring a full cast featuring the world's finest circus and cabaret acts including, straps aerial performer Oscar Kaufman, creative powerhouse Tara Boom, world-renowned sword swallower Heather Holliday — joining the previously announced Lj Marles, Miranda Mezieas and Chastity Belt.
This spectacular show promises a night of laughs, gasps, naughtiness and the best in circus and cabaret.
Ed Bartlam and Charlie Wood, Co-Directors of Underbelly, said: "We're beyond thrilled to finally bring Underbelly to Manchester this Summer, and we can't think of a show more perfect than La Clique.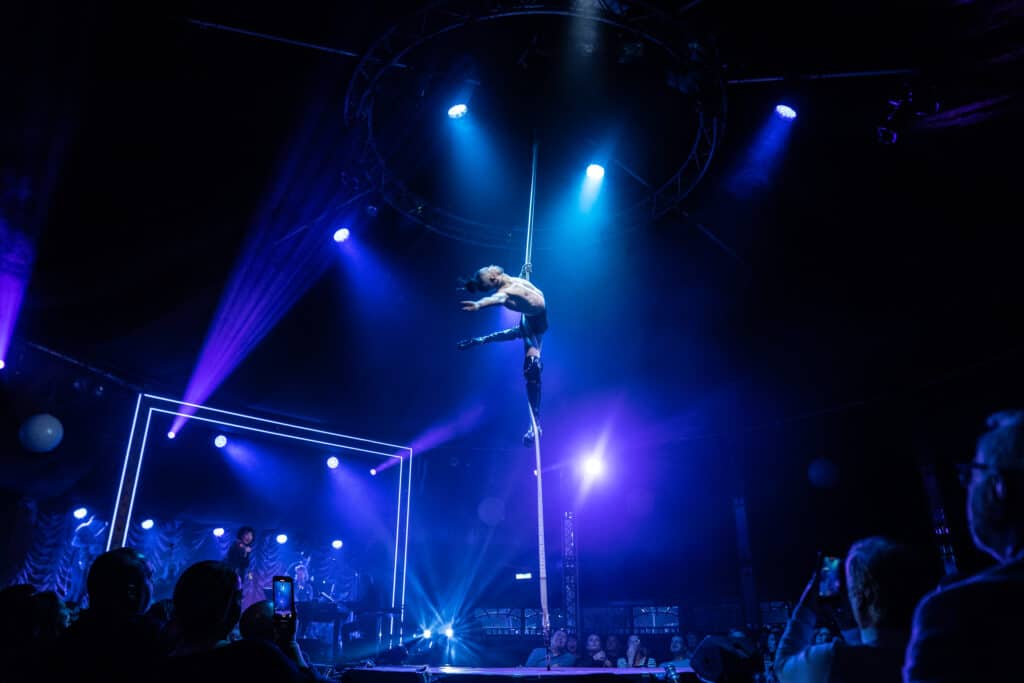 "La Clique is all about audiences having the most incredible time in the majestic Spiegeltent, being entertained by the world's best circus, cabaret and comedy performers – your jaw will be on the floor one minute, and your stomach in pains from laughing the next."
David Bates, Creative Director and Originating Producer of La Clique, said: "La Clique has been described as: 'Over the Head, Under the Skin and Below the Belt…' – it is the original circus cabaret that has taken the world by storm from Paris to New York, and everywhere in between.
"It's sexy, it's funny, it's dangerous… Manchester, strap yourself in, it's your turn now to feel the thrill and we couldn't be more excited!"
Laura Percy, Development Director for Depot Mayfield, said: "Manchester's cultural credentials are second to none and we are thrilled and excited to welcome the pioneering and eclectic brilliance of La Clique to Mayfield this summer….
"We've re-imagined the iconic Depot as an ever-evolving and atmospheric cultural space fit for world-class artists like La Clique. Huge credit to our partners at Broadwick for their passion and creativity in bringing outstanding new shows like this here."
La Clique Manchester runs every evening from Tuesday to Sunday (from Thursday May 25th) with starting times varying between 7pm and 9.45pm.
To celebrate its opening, La Clique Manchester is offering limited early bird tickets for the first two weeks where stalls tickets are reduced to £25 per person. Tickets are automatically discounted via the website. Hurry, limited tickets available!
Tickets available now from £19.50 for a limited 6-week from Thursday 25th May, click HERE. For a private booth for up to eight adults including a bottle of prosecco, click HERE.
P!NK is kicking-off her world tour in Bolton next week
P!NK will bring her tour to Greater Manchester next week
Pop star P!NK is set to kick-off her world tour starting in Bolton next week.
The 43-year-old superstar will embark on her Summer Carnival World Tour next week at the University of Bolton Stadium on Wednesday and Thursday, June 7th and 8th.
The popular American singer-songwriter will take to the stage — in her upcoming eighth concert tour — for the two days as she performs some of her well-known hits and best loved tracks, including songs from her latest album, Trustfall.
The six-pack sporting musician, whose real name is Alecia Beth Moore Hart, posted an image of herself suspended in the air, while practising some kind of aerial arts, on Instagram last week to give fans a taste of what's to come.
Alongside the image she wrote: "Rather than love, than money, than fame, give me truth."
The quote was taken from the 19th-century American philosopher and poet Henry Thoreau. One excited fan wrote: "Can't wait to see u in Berlin!! I'm flying from Barcelona."
Another one-upped them and said: "Can't wait to see her in Germany!!! flying from NY to Barcelona then to Germany!!" A third fan added: "Can't wait to see you in July…this will be so fantastic."
The concerts will be held in the open air, with doors opening from 4.30pm and music due to start at 5.30pm – 11pm on both days.
P!NK will be supported by special guests at the concerts including Kidcutup, Gayle and The Script.
The council has issued advice for parking and traffic management with extensive traffic restrictions in place due to concertgoers travelling by different forms of transport such as car, coaches, public transport, taxis and also by foot.
Tickets for the events can be purchased by clicking HERE.
The Champions League final is being shown at Manchester's biggest fan park
A Sky Sports presenter plus a genuine footballing legend will be there to give their match analysis
A Champion's League Final festival is coming to The Love Factory in Manchester for the big game next month.
Sporting events company, 4TheFans has announced its UEFA Champions League Final Festival FanPark at Love Factory in central Manchester on Saturday, June 10th.
Man City secured their place at the Istanbul final when they beat Real Madrid at the Etihad.
As the Blues march into the final for what could be a historic treble, families are welcome to watch them at this the huge indoor and outdoor event — opening its doors from 3pm. The match will kick-off at 8pm GMT.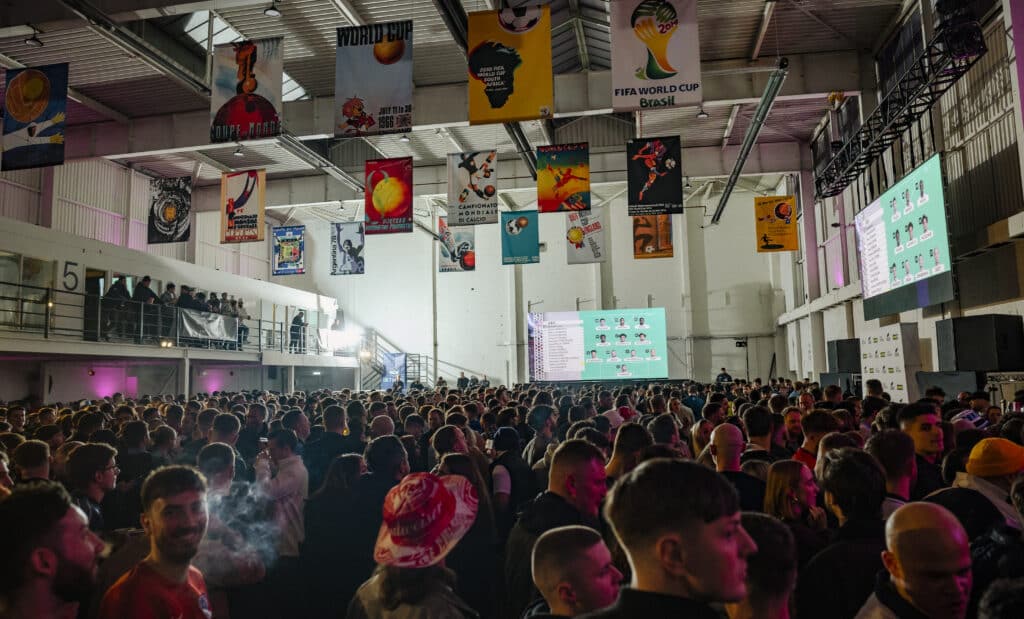 Only 10 minutes walk from Manchester Victoria, it will be the ultimate place for all the family to watch Manchester City take on Inter Milan.
Fans will get to enjoy the big game on huge anti-glare screens and soak up entertainment including a Sky Sports presenter, football legend, DJs, competitions, and fun footy activities — the atmosphere will be immense!
Hosting the event will be a Sky Sports presenter plus a Man City legend to give their match analysis and have bags of banter as part of an interactive show for the fans.
The real festival atmosphere will continue as fans enjoy a variety of food and drink (including award-winning pies), and more.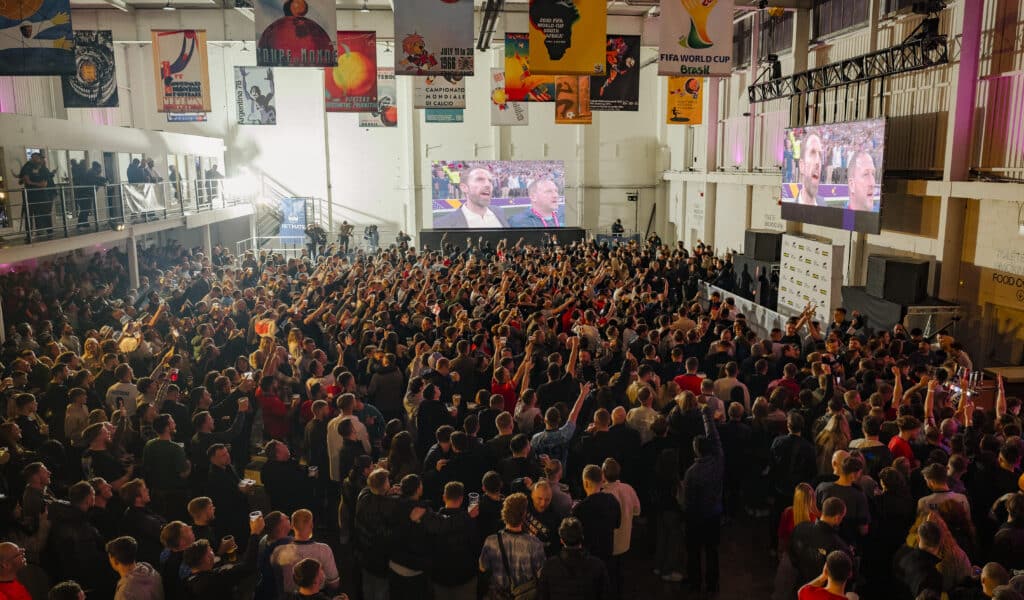 All ages are welcome making this the most family-friendly fan park available. Kids can take on their parents in footy activations including penalty shootouts, and a precision wall to test their accuracy.
And when Manchester City score, get ready for big celebrations with awesome special effects such as pyrotechnics and cO2 cannons!
Tickets are expected to sell out fast so fans should move quickly to secure their spot and avoid disappointment! General admission tickets start at £8 per person for a group of six, and £10 for individual tickets with a VIP box starting from £75 per person.
To book tickets and find out more CLICK HERE.
DJ Fat Tony coming to Selfridges for Q&A about new 'outrageous' memoir
He hung out with Leigh Bowery and Andy Warhol, and created his drag persona, before becoming DJ to the stars
DJ Fat Tony is coming to Selfridges, Manchester this week to do a Q&A about his new 'outrageous' memoir, I Don't Take Requests.
Join one of the most controversial DJs to ever grace the UK party scene along with his co-author Michael Hennegan in conversation, as they celebrate the paperback release of I Don't Take Requests. 
The live discussion with the DJ, about his life and memoir, will take place on Friday, May 26th 6-8pm. Tickets cost £10 and guests will receive a free paperback copy of his new release as well as the chance to enjoy a live DJ set.
Throughout his life and career, the DJ has grappled with addiction, a HIV diagnosis and various career challenges.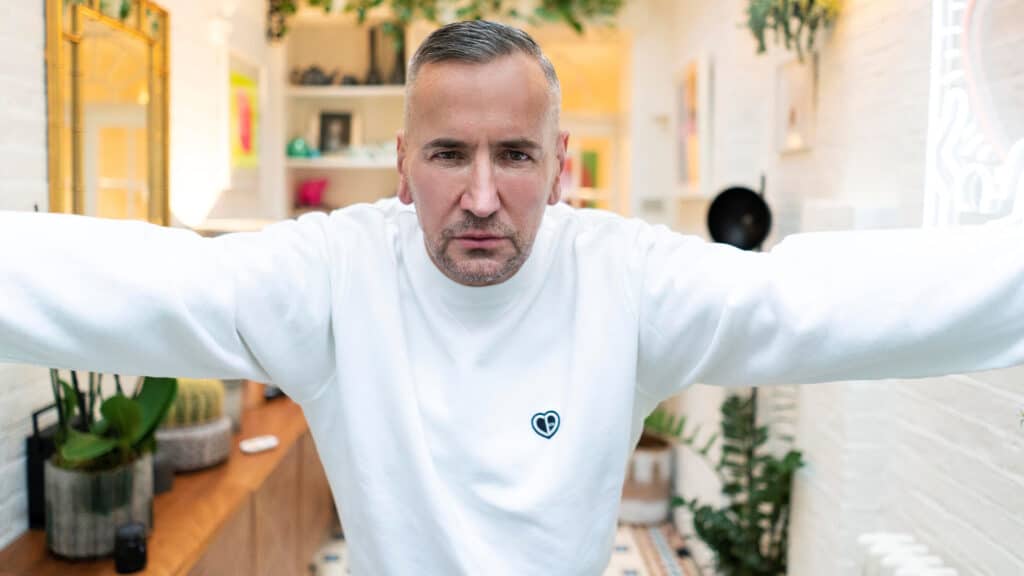 Harrowing, honest, and funny, I Don't Take Requests is the 'candid and outrageous memoir of a life of extremes'.
It's a story of 'getting it all and losing it all'. Addiction, recovery, and starting again. Drawing a vivid portrait of Britain's street culture from the 1980s to the noughties. 
DJ Fat Tony describes his childhood on a London estate where he honed his petty criminality, was abused by an older man, and became best friends with Boy George. 
He spent his teenage years parading the Kings Road in his latest (mostly stolen) clobber, worked as a receptionist at a brothel, hung out with Leigh Bowery and Andy Warhol, and created his drag persona, before becoming DJ to the stars (including Prince and Madonna) and spiralling into a life threatening drug addiction.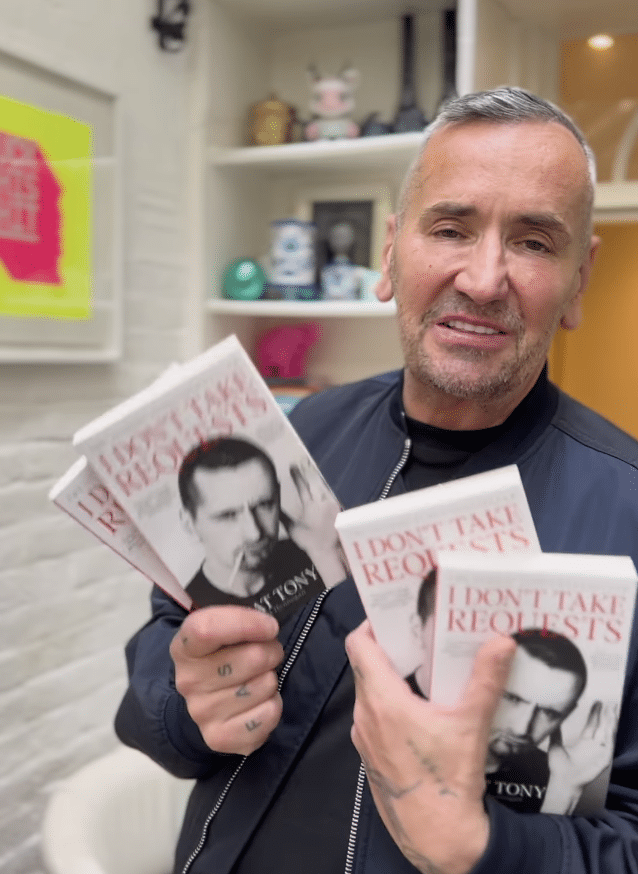 Now 16 years sober he has enjoyed a renaissance in life, becoming one of fashion's favourite DJs. He does this whilst being a leading voice on the sobriety scene and an LGBTQ activist.
Tickets cost £10 and include a copy of I Don't Take Requests, a Q&A panel discussion, as well as a live DJ set.
For tickets to the event click HERE.
Fri 26th May, 2023 6:00pm – 8:00pm. Men's Level 1, Selfridges, 1 Exchange Sq, Central, Manchester M3 1BD.