Manchester is getting the UK's biggest outdoor heated winter market this Christmas
Christmas is saved!
The sad but inevitable news that the Manchester Christmas Markets have officially been cancelled was announced today.

While some people will be absolutely gutted about this, fear not, there is still some hope for the festive season in Manchester this year.

Escape To Freight Island has announced the next stage of its evolution at Depot Mayfield this week, revealing that the new Winter Island markets will join The Ticket Hall.
You can expect family-friendly enchantment and festive food, drink and entertainment this Christmas, when Winter Island opens its doors on Thursday November 12th.

When it opens, Winter Island will become the UK's largest fully outdoor, heated winter market, with a 45ft Christmas tree and a massive 1500sqft garden tent full of festive traders and stalls to get you in the Christmas spirit.

The likes of Great North Pie, a bratwurst grill, traditional hog roast, a mulled wine and hot cider hut, local chocolatier and artisanal cheese stall will be in attendance, to keep you fed and watered.

This is just some of what you can expect at Winter Island:

Traditional Hog Roast

A Mulled Wine and Hot Cider Hut

A Local Chocolatier

An Artisan Cheese Stall

Winter Ice Curling Rink

Hot Chip and Alfos

Just The Tonic Comedy Nights

A Festival No.6 Take Over

A Big Brass Band

Disney Singalong

A Stunning Installation Feature By Lightopia

A Huge 45ft Christmas Tree



Escape to Freight Island recently confirmed the first part of its new development over at Depot Mayfield, following a hugely successful launch and summer, revealing The Ticket Hall – which opens on October 30th and will see the venue double in capacity.
This next chapter at Platform 15 will see a whole host of new food vendors arrive at the venue, taking over the industrial indoor area, meaning you'll be able to enjoy top scran from some of your favourite local eateries down at Freight Island.

Taking over the original structure within Depot Mayfield, there will be a fully heated area with table seating, a wine shop, bars, a bike cloakroom, as well as a new stage and top entertainment lineup.

Joining the amazing Baratxuri, Voodoo Rays, Patty Queen and Madre, there will be some of Manchester's favourite food and drink vendors, including:

Sugo Pasta Kitchen – The famous pasta restaurant based in Ancoats bringing stunning Italian food will be setting up shop.

Mi & Pho – An award-winning family-run restaurant serving authentic Vietnamese dishes.

Plant Grill – From Dan Hope of Fire Bird Hope and Krum fame, Plant Grill will be a vegan offering of modern cuisine.

El Boleto – A San Sebastian-style Deli serving up delicious small plates and freshest




produce to enjoy at home or on-site.

The Jane Eyre – Classic drinks with a twist.
There will also be two taprooms in The Ticket Hall from Camden Town and Pomona, alongside Forever Changes – an independent wine shop.
The site will continue to operate under the world leading 'Safe + Social Manifesto', meaning Escape to Freight Island is committed to maintaining a safe environment for everyone.
This means it's: "A space where you are able to socialise safely with your party, maintaining social distance from others and remaining alert to the risks of coronavirus, while being part of the overall urban festival atmosphere of Freight Island".
You can get booked in for the Ticket Hall and Winter Island here.
A Greek, Caribbean and Argentinian barbecue is coming to Manchester
What better way to enjoy summer than with a huge barbecue!
A huge cookout featuring Greek, Caribbean and Argentinian barbecue is coming to Manchester next weekend.
Three Manchester pitmasters will cook-up a storm over live smoke and fire with dishes from around the world on the lush green at the Carlton Club, Whalley Range, on Saturday, June 17th.
Shindigger has announced the family-friendly day — which also welcomes dogs — running from 2-10pm and featuring food from Manchester's Knights BBQ, Broke N Bone, and Taka Taka Mam.
The brewers are holding The Cookout to raise money for Trussell Trust with 100% of ticket revenue going to Food Banks.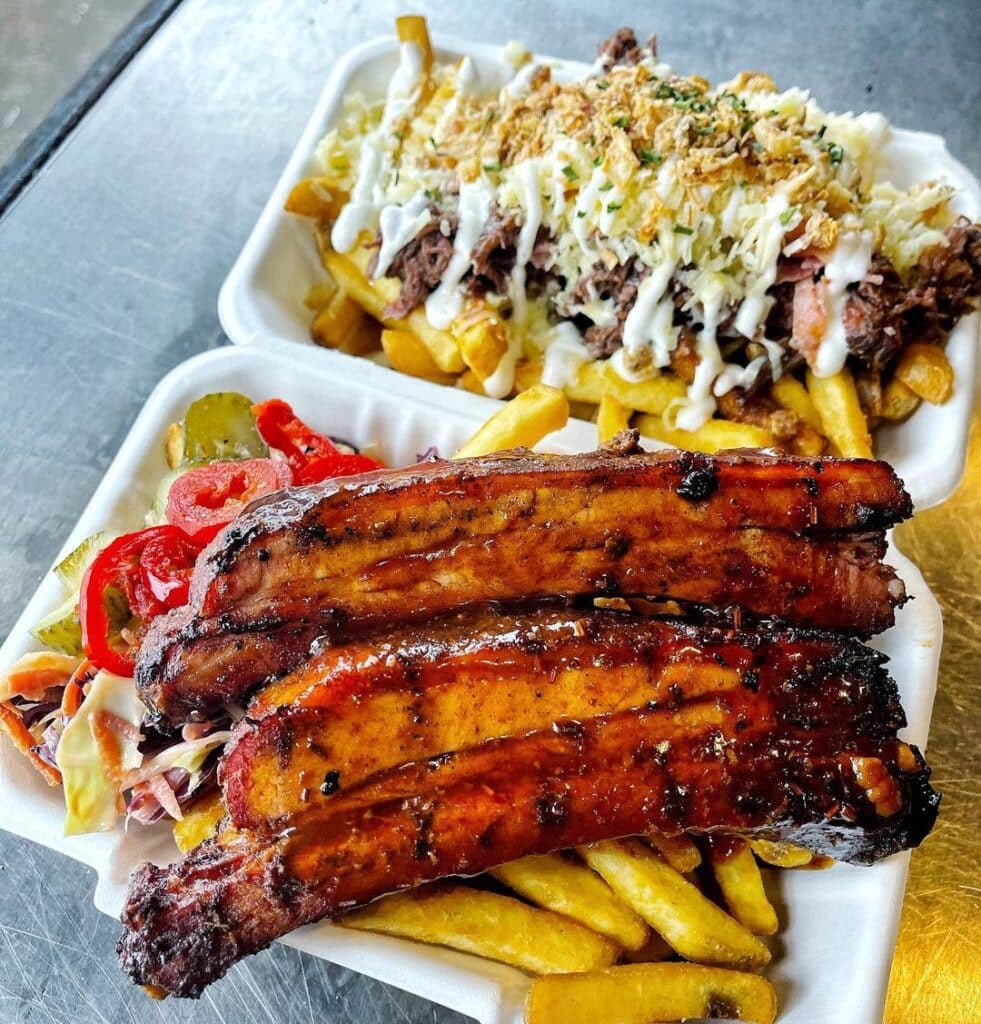 Knights BBQ will serve up their succulent and tender smoked Caribbean jerk chicken, while Broke N Bone will grill their meat slowly, taking influence from the traditional Argentinian Asado way of cooking. 
Foodies can expect a whole lamb at The Cookout, as well as beef steaks charred on the fire pit.
Taka Taka Mam will have a menu of chicken and lamb Greek gyros, as well as halloumi and mediterranean salads.
Shindigger will also be serving up the perfect ales to accompany the variety of chargrilled food — a heavenly summer combination.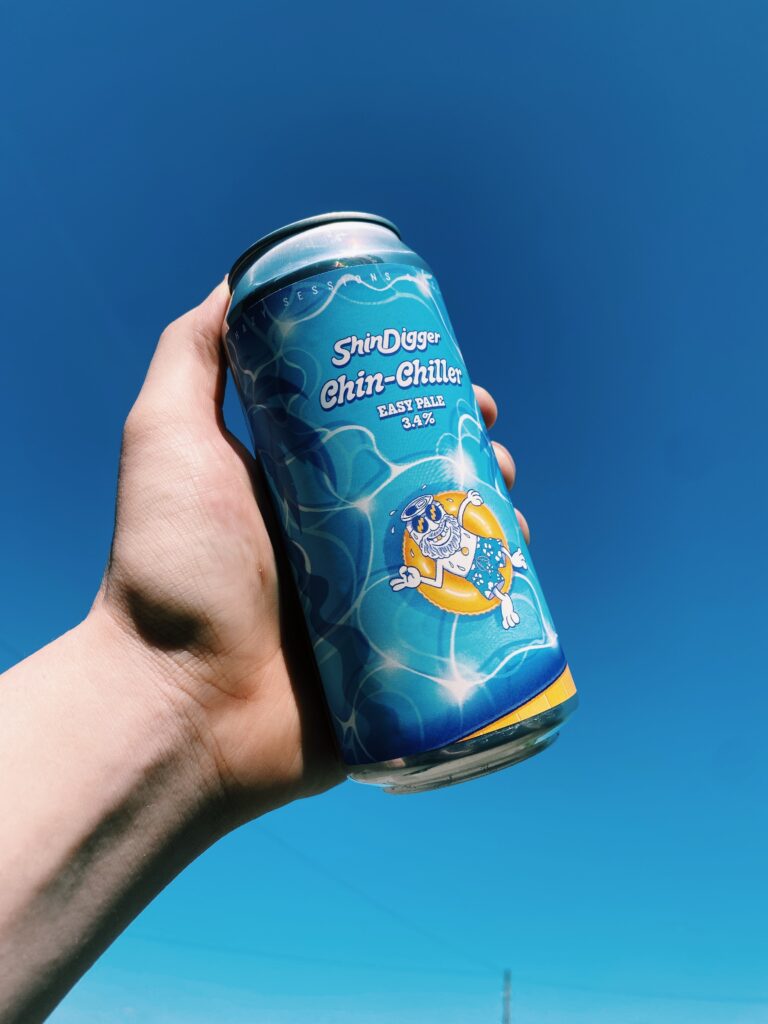 There will be a dedicated bar of eight draught options to wet your whistle, including summer specials and Chin-Chiller — a brand-new ale making its debut at the event.
The easy drinking 3.4% pale ale, with refreshing zingy notes of mango and lychee, is designed for all-dayers.
Tickets for The Cookout cost a fiver, with all proceeds going towards local Trussell Trust food banks.
The Trussell Trust supports a nationwide network of food banks that supply food to people facing hardship, with numerous sites across Greater Manchester.
The money will go towards vital community work and support for families struggling with soaring food prices. 
Grab yourself a ticket so you can get your chops around a gyros, with a Chin-Chiller in hand to wash it down – it's all for a good cause. Tickets cost £5, plus an additional booking fee.
To book tickets to The Cookout at The Carlton Club on June 17th, click HERE.
A 1980s Miami Beach rooftop cinema is opening in Manchester this summer
Backyard Cinema is back!
A rooftop cinema experience bringing Miami Beach vibes is coming to Manchester next month.
You can take a romantic date, or even a bunch of mates, to go and sit on the sandy rooftop of Depot Mayfield and watch some classic '80s films under the breezy palms — don't forget to wear your best Hawaiian shirt and a pair of aviators to complete the look.
Next month, take a trip back to 1980s Miami with neon lights and deco architecture, and get ready to enjoy a summer holiday in the city.
All ages are welcome to this family-friendly experience, which will host a variety of special events as well as spectacular sets.
Friday nights will feature Dirty Dancing beach parties with watermelon cocktails.
In addition there will be movie sing-a-longs, drag acts, and for those who are fans of all things pink, there will be screenings of the new Barbie movie starring Margot Robbie and Ryan Gosling.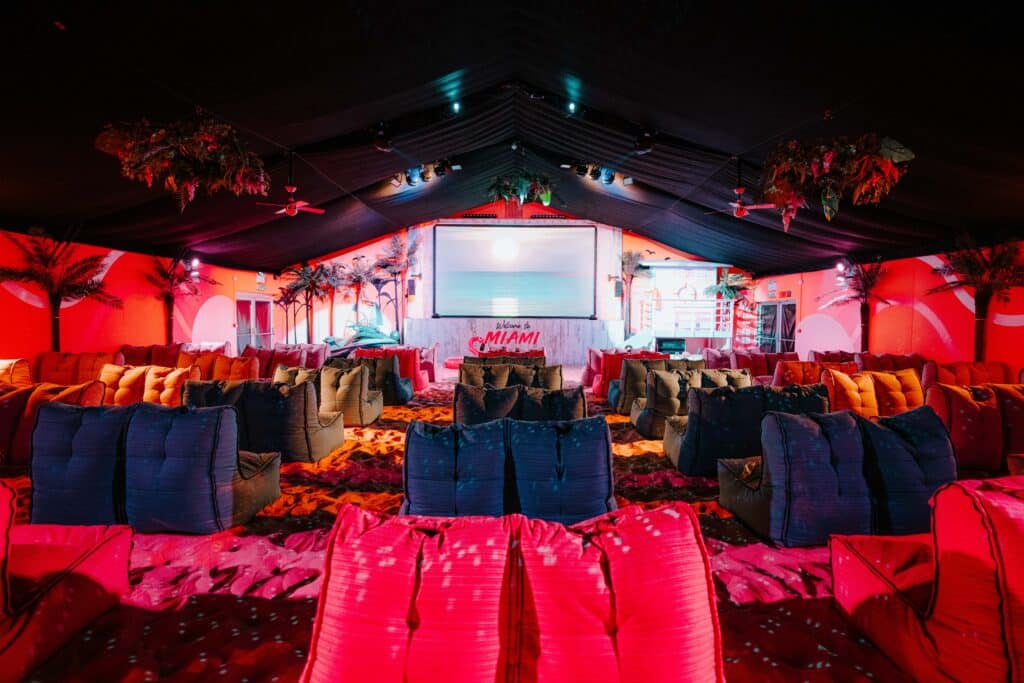 There will also be lots of matinee screenings added for the school holidays so the kids don't miss out. They'll be able to have a whale of a time as they enjoy movies such as Super Mario Bros, Moana, The Little Mermaid and plenty more.
A variety of food and drink will be available, as well as alcoholic themed-cocktails, and guests are encouraged to come in fancy dress.
Join the waiting list for Backyard Cinema Miami Beach now. Open from July 5th, opening hours will be every Wednesday – Sunday from 12pm.
Given the name, it may not be a huge surprise to learn that Backyard Cinema started in its founder's back garden with a group of friends enjoying a Blues Brothers sing and dance-along, with fancy dress, food, drink, the whole works.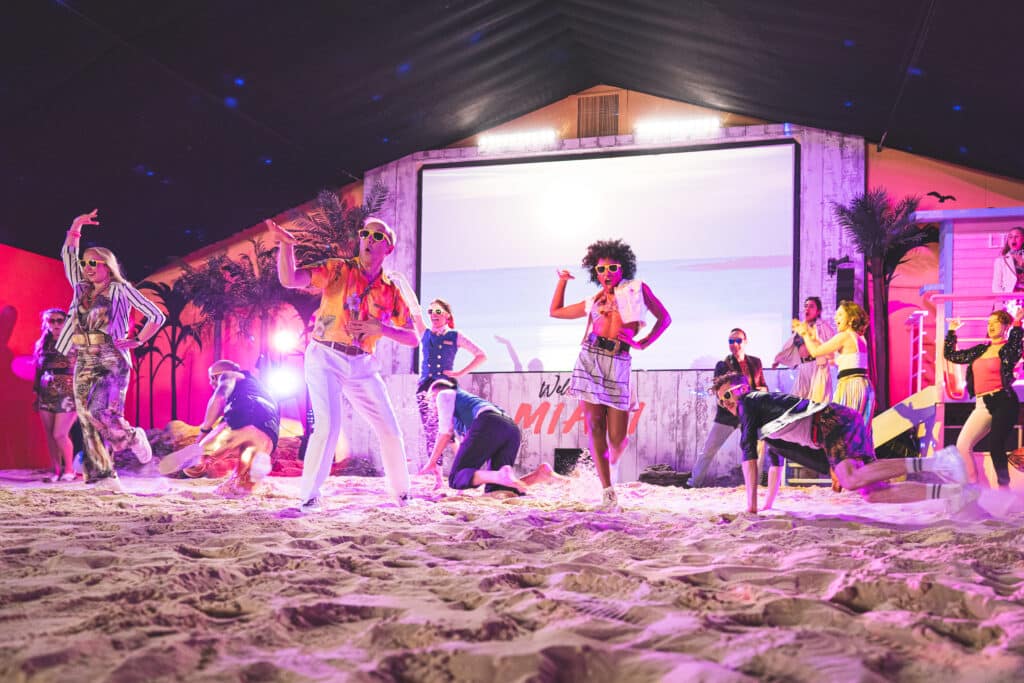 Things took off from there and Backyard Cinema has now grown to be one of the leading alternative cinema experiences in the UK. 
Dominic Davies, Founder and Creative Director said: "After the huge success of our Winter season we are super excited to bring our smash-hit Miami Beach to the roof of Depot Mayfield. 
"We are going to take people back to a retro 80s Miami full of glitz and glamour and create the closest thing to a Summer Holiday in Mayfield."
Open from July 5th, ticket prices start from £9.50 and you can book tickets HERE.
Children under the age of 15 must be accompanied by an adult aged 18+. Age certification for films apply regardless. The venue is wheelchair accessible.
Manchester's biggest Country and Western night is happening this weekend
Get ready for a boot-scootin', rootin' tootin' good time!
Manchester's biggest night of Country and Western floor fillers is happening this week.
Red Solo Club is bringing its successful club night to Cooper Hall on Saturday, June 10th — yeehaw!
Put on your best cowboy hat and boots, and get ready for a great night of dancing as country lovers can expect to hear some absolute contemporary bangers by the likes of Luke Combs, Taylor Swift and Shania Twain.
And for those who love to a little Hillbilly Rock, there will also be occasional interludes of traditional country singalongs from Kenny Rogers, Alan Jackson, Jimmy Buffett and more.
Since its first night sell-out in November 2022, Red Solo Club has grown to become a successful bi-monthly event in Manchester, and as of July, it will be coming to Glasgow too.
Taking its name from Toby Keith's country hit Red Solo Cup, Red Solo Club was created by friends Ste Brown and James Macdonald.
They said: "We were both introduced to modern country music while driving around America together about 15 years ago. You can't go far over there without hearing some country music, and our interest in it has grown and grown since then."
The pair also present The Dive Bar on LCRUK — an online country radio station setup during lockdown.
They continued: "We'd play all this music on our show and go to gigs but there was nowhere in the area that would play these songs late into the night, so we thought… why not do it ourselves?
"The genre is becoming really popular in the UK, and with young people too. I think some people maybe assume it's just line dancing, stetsons and Achy Breaky Heart but give it a listen and realise there's some great rock and pop songs — just with a little southern American twist."
Red Solo Club is Manchester's biggest country party, playing five hours of the best country music at Cooper Hall, Northern Quarter, on Saturday June 10th 9pm to 2am.
Ticket prices start from £5 and can be purchased by clicking HERE. Advanced tickets are available for £6, or £7 for anybody wishing to pay on the door.